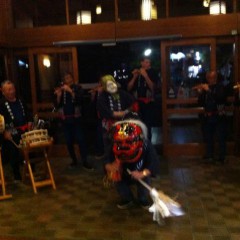 3日間連続のそれぞれ別なテレビ局の撮影…
疲れますが何とか戸倉上山田温泉のPRの為!
今回は上山田神楽保存会の皆さんが亀清旅館で集まって頂いて、ロビーで獅子舞の演奏しました。私は獅子笛をやっております。泊まっていたお客様も喜んでくれたし、テレビのディレクターが東京で味えない近所の熱意の繋がりを感動してくれました。
振り替えてみれば、私はこの戸倉上山田温泉に来て良かった。メンバーになって7年目。こうやってお神楽の皆さんが仲間として受けてくれて、恵まれています。
3 different TV shootings in 3 days.
It's getting exhausting, but I hope it's good PR for our onsen town, Togura-Kamiyamada.
For the latest production, we had the Kamiyamada Lion Dance troupe come and perform in our lobby here at Kamesei Ryokan. I play the flute with the group. Our guests really enjoyed the performance, and the TV crew appreciated how close-knit our group is -- something they don't see in Tokyo.
I am really fortunate in moving to Nagano that the lion dance guys have really accepted me into their group, now going on 7 years!