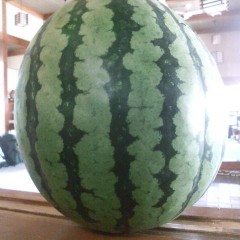 日本のおもてなしの心はすごいです。私は一生をかけても「おもてなし」を完璧に出来ないと思います。
今日はいい例です。久しぶりにお昼の「田毎の月」の棚田を車で通ったら、畑で働いていた叔父さんのトラックが道をブロックしていました。遊びに来ていただけの私達が仕事している農協の方にトラックを移してもらうのはまずいと思いながら、おじさんが畑から降りて移動しに来てくれた。そして、「あっ、テレビで出たよね」と言ってくれて、トラックの後ろからスイカを出して、下さりました。まあ、感心しますよ。逆にアメリカだったら、トラックの後ろから何を出すか怖いですよ。
The Japanese people tend to be some of the most welcoming people in the world. Today was a great example. I took our van for a drive through the Obasute terraced rice paddies, and part-way through a farmer's truck was blocking the road. I didn't want to inconvenience the farmer, who was working, to move his truck for us, who were just playing. But he came down out of the field to move it for us. When he saw me, he said, "Oh, you were on TV!" And he went around to the back of his pickup and pulled out a ... watermelon, and gave it to us. How considerate! If this were the States instead, I'd be afraid to guess what he'd pull out of the back of his pick-up!