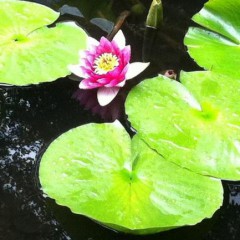 戸倉上山田温泉の裏の城山に善光寺別院のお寺さんがあります。お寺からの眺めが綺麗だし、お客さんに時々連れて行きます。
今回は眺めより、お寺の庭の蓮の花が印象的でした。「そう言えば、今は蓮の花の時期だ」と思い出した増した。善光寺別院の庭にもありますが、この千曲市の八幡地区の大雲寺の蓮がこの辺の代表的な蓮スポット。お城の様なお寺の建物に広い蓮の池で、お勧めです。
Above our onsen town Togura-Kamiyamada is a branch temple of the venerable Zenkoji Temple in Nagano City. The view from the temple's deck is spectacular, so I often take guest up there.
This time, though, more than the view, the lotus flowers blooming in the temple's pond grabbed our attention. That reminded me that this is lotus flower season.
Here in Chikuma City, the main lotus flower viewing spot is Daiun-ji Temple in the Yawata neighborhood. The castle-like temple building features a huge pond covered with lotus flowers. This is the perfect time to see the beautiful flowers.