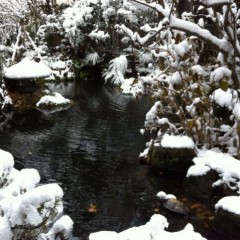 10日に朝に起きたら、戸倉上山田は雪のパラダイスになっていました。亀清旅館の中庭がこんなに綺麗でした。
あれから温度の低い日日が続いていまして、雪が所々に残っています。いきなり1月中旬の天気のようになった。その分、ホワイトクリスマスは期待してます!
道がもう大丈夫ですが、この時期に信州に車でお越しの皆様は道状況をよく確認しましょう。
When we woke up on the morning of December 10th, we were treated by a winter wonderland. All of our onsen town Togura-Kamiyamada was covered in snow. Kamesei Ryokan's naka-niwa garden koi pond looked especially peaceful.
Since then, we've had low temperatures all week so the snow is staying around in places. It's been mid-January-like weather. But it's gotten my hopes up for a white Christmas!
The roads around town are all bare already. However, for anyone driving to Nagano this winter, it is best to check road conditions first.
高速道路道状況 Expressway Driving Conditions