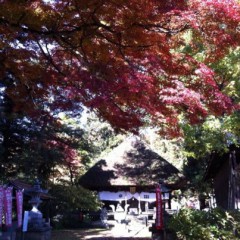 この戸倉上山田温泉の代表の紅葉スポット、智識寺に寄って来ました。モミジが真赤、イチョウが真っ黄色、お寺の茅葺屋根と素晴らしいコントラストになっています。写真者の皆様、今はチャンスですよ!
そして、智識寺の隣のクラウン農園に寄ってみた。今のりんごは何の種類が出ているかと思った。秋のしなのスイート、秋映、しなのゴールドはもう終わりかけ、ふじりんごがちょうど始まったと教えてくれました。「もう一週間たった方が更に甘くなる」と女将さんが言っていました。しかし、試食してみました。言わせて頂けたら、もう、十分甘いです。
という事で、今週末に戸倉上山田にお越しになる皆様、紅葉のピークだし、ふじりんごの始まりなので、お楽しみに。
The most famous location for fall foliage here in our onsen town Togura-Kamiyamada is Chishiki-ji Temple. I stopped by to see how the leaves are progressing, and was pleased to find the maple trees were in full red color, and the ginkgo trees had turned a brilliant shade of yellow. All of you photography buffs out there, this is your perfect chance to get some great pictures of this historical, thatched-rood temple and its gardens in full fall glory.
Right next to Chishiki-ji is Crown Farm. I stopped by there, too, to check on how the apple season is shaping up. They said the fall apples (Shinano Sweet, Akibae, Shinano Gold) are pretty much finished, and the Fuji apples have just started. Mrs. Tobita said that it would be another week before the Fuji apples reach their peak sweetness, but if you ask me, they were definitely sweet enough.
So for everyone planning a visit to Togura-Kamiyamada Onsen this weekend, you're in for a treat: peak fall colors and the start of the fuji apples!