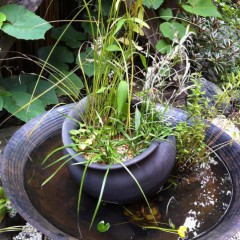 亀清旅館の新しい貸切露天「しなの風呂」の通路の横に大きな鉢がある。冬はその鉢で薪を焚いたりしているけど、この夏に生まれ変われました。庭師の岡田さんの手作業で「水鉢の寄せ植え」となりました。
長野の水辺に良くある植物を生かして、ちょっとしたビオトープになっています。
白鷺の形の花のサギソウ、
佐渡島のトキに似ているトキソウ、
太陽が上がってくる瞬間を表現するアケボノソウ、
お寺の巴に似ているトモエソウ、
オゼギボウシ(尾瀬国立公園で見付けられた)
ヒメマツカサススキ(aka Scirpus karuisawawensis a la 軽井沢)
等など
植物一つ一つは特別で、岡田さんのアレンジが素晴らしい。
亀清の貸切露天風呂をご利用な皆様に新たな楽しみが出来ました。
Next to the path to Kamesei Ryokan's newly built outdoor family bath "Shinano-buro" is a large cast iron pot. In the winter, we use it to burn firewood to add some warmth and ambience to the bath.
For this summer, our gardener Okada-san has made a mini-biotope of water-based flowers and arranged them in the pot. He incorporated several unique flowers found in the wetlands of Nagano and the surrounding area, such as:
Habenaria radiata, whose white flower resembles the shape of a white heron,
Scirpus karuisawawensis, which - as the name suggests - was first found in the eastern Nagano town of Karuizawa,
Swertia bimaculata, whose Japanese name 'akebono' references the colors of the sky at dawn, reflected in the colors of this tiny flower,
Pogonia japonica whose pink flower resembles the shape of a Japanese crested ibis,
Hosta 'Oze' representing nearby Oze National Park,
etc.
Guests who use Kamesei's new family bath will be treated to Okada-san's beautiful wetlands flower arrangement this summer.