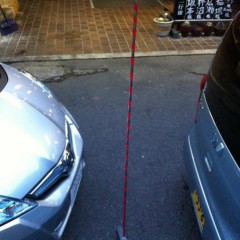 「日本の生活は慣れましたか?」とよく聞かれます。「完璧に慣れたよ」と思い込まないようにうんと気をつけます。忘・新年会の時期でそれを思い出された事件がありました。
この時期は一人一台のお客様が多い為に、駐車場管理が難しいです。車の間はぎりぎりまで止めたりする。我々アメ人はその場合、ぶつけるまでバックするという習慣。ある日、お客様から「車が傷された」との怒りのお電話を頂いた。「対応しますから写真を送ってください」とお願いした。
しかし、その夜、私が布団ひきしている最中、外は雪が降っていて、奥様と赤ちゃんを連れて車を見せに来た。光を当たらない限りで見えない凹みは2つがあった。「俺の車は後ろのとぶつけっただろう」とガンガン怒っていらっしゃった。「そうだよ。車のバンパーはそのためだよ」と正直に言ったら、「アメリカはそうかもしれないけど、日本は違う!」と爆発されました。
写真の依頼を無視して、雪の中、妻と赤ちゃんを引っ張ってきて、人が布団ひきでくっ○忙しい時に、屁みたいな傷(コンパウンドで磨けば2秒に取り消せそう)の為に、何で私がこんなにいじめられないと駄目かと思いながら、
私は8年間で駐車場係をずっとやっていて、気付かなかった日本のルールがあった事に驚きました。日本人は車のバンパーと目的が分からないのかな?と、今さらのカルチャーショック。
結局は5万も払わされましたという痛いカルチャーショック。
二度とそんな問題がないように、他の旅館の仲間に紹介してもらって、写真の棒を購入しておきました。「青木棒」と呼んでいます。改善、改善!
People often ask if I've become accustomed to life in Japan. I try to be as careful as possible to avoid the mistake of thinking I've mastered Japanese culture. This end-of-the-year party season, I had an expensive reminder as to why.
During the banquet season, many guests come to the inn one car per person, making parking extra difficult. Us Americans are used to parking in tight spaces by backing up until hitting the next car's bumper.
One day, we got a call by a guest who said we dented his car. I told him to send a photo and we'd compensate him.
But then that night, when I was in the middle of flipping futons, he came with his wife and baby in tow, in the falling snow, so show me two indentations on his bumper that were literally so small that he had to shine a light on them to see. "You backed into the car behind, didn't you?" he argued. I was so taken aback that I responded bluntly, "Of course -- that's what bumpers are for." That made him explode, "Maybe in America, but not in Japan!"
Here he was, ignoring the request to just send a photo, interrupting my futon flipping, in the snow with his poor wife and baby, upset over 2 miniscule dimples in his bumper, something that could be rubbed out with compound in a matter of seconds.
I've been parking cars here for 8 years, but this was the first time I'd heard Japan's 'rule' against using bumpers for what they are meant to be used for. And it cost us 50,000 yen.
In order to avoid such issues in the future, I consulted with another innkeeper and purchased these parking guide poles, affectionately named (by me), "Aoki Pole".