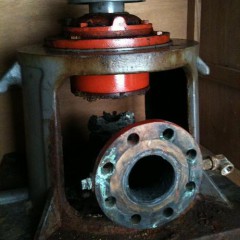 亀清旅館のお風呂場の前に、ちょっとした温泉資料館があります。なんちゃった歴史館です。私がこちら来てから集まった温泉関係の物です。木の棚の中に展示してあります。
昨日の上山田温泉会社の源泉工事で出てきたオブジェは1つを頂きました。井戸の上に設置してあった部品です。新しい部品が取り付けられたのでこの部品はいらなくなった。我が展示所の為に下さりました。むちゃくちゃ重いけど、なんとか棚に設置が出来ました。温泉の成分がいっぱいくついているので温泉の力が感じれます。
今度、亀清旅館のお風呂に入る時に、プチ歴史ギャラリーもご覧になって下さい。
In front of the entrances to Kamesei Ryokan's baths, we have a wood bookshelf filled various onsen artifacts that I have collected over the years. During yesterday's onsen well work by the Kamiyamada Onsen Company, one of the old parts got replaced and the Company offered to give it to me to add to my little history collection. This part weighs a ton -- literally! We needed a crane to move it. Somehow I got it situated into our little onsen gallery. You can see the onsen mineral deposits on it -- it shows how powerful the onsen water is!
So next time you take a bath here at Kamesei, take a moment to see our mini Onsen Gallery, too!
信州戸倉上山田温泉の亀清旅館のHPはこちらClick here to see the website of Kamesei Ryokan in Nagano.