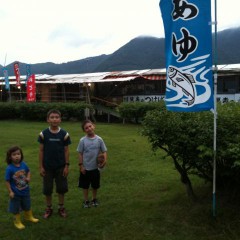 戸倉上山田温泉の真ん中に千曲川が慣れて、川沿いに3つのつけばもあります。亀清旅館の若女将はつけばの体験がなかったので、昨夜は家族で行きました。自分と子供たちは以前に体験したことがあったが、ママは気に入ってくれるかな?
今回行った場所は季節料理「川萬寿」(せんます)でした。つけばの建物の全部は基本的に仮設です。河川敷に固定した建物はだめだから。ですから、「つけば」はどうしても女性が喜び沿うようなきれいなお洒落な施設が少ないです。その中で、川萬寿さんはアットホームな落ち着いた雰囲気で、良かったです。大げさな川ソファに座って、隣の千曲川の流れを眺めて、川辺で遊んでいたキツネを見たり、とっても良い雰囲気でした。
そして、つけばの主の目的:川魚のお料理。鮎はもちろん塩焼きそして天ぷら、唐揚げ、魚田、などなど。最後に出た鮎入りの味噌汁が最高でした。川魚が苦手な方には恐らく地獄だろうけど、好きな人にはそうやって川沿いで川魚の色々なお料理を食べるのは最高!
つけ場を体験したい方には亀清旅館の朝食付きの半泊まりプランがおすすめです。つけばまで歩いて10分なので、夕食はつけばで、また宿に戻ってゆっくり温泉に入ったりしていただけます。
Togura Kamiyamada Onsen has the Chikuma River running down the middle of it. Along the banks here in town are 3 "Tsukeba" river fish restaurants. They're more like fish shacks, as by law they have to be built using temporary construction. No permanent buildings are allowed to be erected along the banks. So, by definition, the fish shacks don't tend to be the elegant type of place that ladies would appreciate.
So when my lady, Mari, mentioned she had never done "Tsukeba", it was with a bit of apprehension that I took her and the kids last night to Senmasu. With its patched up leather couch and eclectic decor, the ambience was a bit tacky. But being able to look out at the Chikuma River flowing by and seeing a fox play in the rocky beach made for an enchanting scene. Plus, the cuisine was delectable. Ayu sweetfish prepared in so many ways: rubbed with salt and grilled, tempura, sashimi (!), etc. The fish head miso soup at the end was outstanding!
For people who don't appreciate river fish, this cuisine is probably hellish, but for those that do, eating river fish on the banks of the river is like heaven!
If you would like to combine tsukeba with a stay at Kamesei Ryokan, we have accommodation only plans so you can walk the 10 minutes to one of the fish shacks to enjoy a tsukeba dinner and return to relax at our inn and soak in the onsen baths.
川萬寿は夏の間営業が続いています。お昼は11:00-15:00、夜は17;00-20:00(予約がおすすめ)
Senmasu's hours are from 11am to 3pm and from 5pm to 8pm (reservations recommended).
Tel(026)275-0019