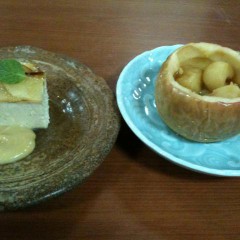 上山田はお湯も果実も、ダブル宝物があります。しかし、意外にお互いの連携がない。これからはその境を越えるプロジェクトが始まります。有志で我が亀清旅館ともう2つの旅館がリンゴ農園の4か所と話し合って、両方の魅力ををどうやって生かせばいいか考えていきます。リンゴ園曰く、「上山田の宿はデザートで美味しいリンゴが近くで取れるのに、どうしてみかんを出すの?」というクレーム。宿側の板長達の悩みはリンゴがすぐ変色するし、もっと工夫した料理を出したいと。
今夜は私の先輩の宿、滝の湯で集まって、リンゴのアイディア料理を旅館関係、農家関係、市役所関係約10人が集まって、試食会を開きました。滝の湯のリンゴで甘みを取るすき焼きとか、農家の自然に乾燥したリンゴスライスとか、亀清のChef武井のベークドアップルなど、お互いにいい刺激になりました。これからは我々宿側がリンゴ料理プランを作って、農家がヤブキ林檎を提供して、上山田温泉の新たな魅力を作っていきます!
Here in Kamiyamada, we have both an outstanding onsen as well as outstanding fruit orchards. However, for some reason the two don't have many areas in common. Along with two other inns, Kamesei Ryokan is working with a handful of forward-thinking fruit farmers to combine the best of both and provide guests even more enjoyment.
We've had some great discussions so far. The farmers complain that Kamiyamda's inns serve oranges for dessert despite having delicious apples grown nearby. The chef's on the other hand don't like the fact that fresh sliced apples turn color so soon, and besides they pride themselves on being more creative with the cuisine.
Last night we had a tasting party, attended by people from the inns, the orchards, and even city hall. Host Taki-no-Yu's sukiyaki using apple instead of sugar for the sweetener, one of the farmers' naturally dried apple slices, our Chef Takei's baked apples -- it was a very educational event. Now the inns will make "Apple Cuisine" plans, and the growers will provide some of the 2nd grade apples at low cost, and combining forces we will make a result that our guests will enjoy!