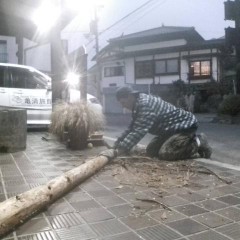 2つ目の露天風呂の完成を向かって先日は屋根の為の柱を磨きました。夜中に。何とかクリスマスまでに仮オーペンしたいわけです。
柱は以前に頂いたヒバの丸太です。薪ストーブの為の薪として頂きましたが、ちょうど良い柱になると思いました。燃やさないで、キープしておきました。ちょうど良かったです。この新しいお風呂もヒバですからマッチしています。
今回に使うことに当たって、まずは皮を剥いて、そして温泉のお湯で洗いました。手伝ってくれている大工さんの村越さんが塀に取り付けました。
As the construction of our 2nd outdoor bath winds down, last night I prepared the columns for the roof. By last night, I mean the middle of the night. With all the meetings I've been going to, that was the only time I could do it.
Last spring, I received several yellow cedar logs to use as wood for our stove. After seeing them, though, I thought they were in good enough shape to be used for columns. So I kept them instead of burning them.
They're coming in handy now, as they match our new bath which is also made out of yellow cedar. I stripped their bark, then cleaned them using onsen water. Then Murakoshi-san, the carpenter who is helping us out, installed them.