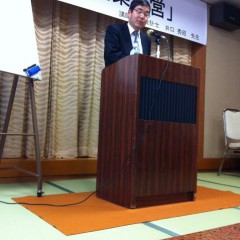 長野県旅館青年部の会議@下諏訪では、
CPAの井口秀昭先生が講師になって頂きました。現在の日本・世界の経済のマクロを語ってくれました。
あまり明るい話ではなかった。
今までは「今日より明日が明るい」
つまり、子供は親より良い生活を送れる
とのが常識だった。
これからは違う。
今の大学生は卒業したら仕事より借金が待っている。
「この不景気が終われば良いな」ではなくて、
この不景気・デフレの中でどうやって利益を出していくかが議題だと。
旅館青年部って懇親会(=飲み会)ばかりというイメージがあるかもしれないけど、こういう真面目な勉強もしっかりやっています。
During this latest Nagano Ryokan Junior Association gathering in Shimo-Suwa, the keynote address talk was by CPA Hideaki Iguchi.
It wasn't a happy talk.
Iguchi-sensei explained that up until now, common wisdom taught that tomorrow will be brighter than today; that our children will have better lives than ours.
Not anymore. The poor economy and deflation are not only here to stay, but will keep getting worse. The important thing is to find a way to eek out a profit even in this worsening situation.
Our ryokan junior assocation has an image of partying and drinking. But as today's this talk shows, we do some heavy studying, too.