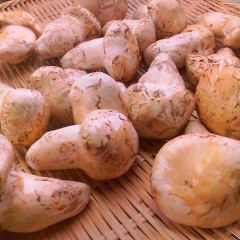 日本料理は松茸やきのこのお料理が世界一ではないかと思います。種類もたくさんあるし、松茸の難しい香りを行かせる土瓶蒸しとかはその微妙な香りをうまく生かせる。私もファンになりました。
我が武井板長がこの時期のメニューにこんなに美味しそうな松茸をホイル焼きや茶碗蒸しに使っています。リクエストがあれば、松茸の土瓶蒸しも出来ます。そして,おなべはこのごろ、塩田平のきのこのなべに切り替えました。板長の味付けはまた美味しいもの!
秋の楽しみの料理が来ました!
Japanese cuisine has to be the top in the world when it comes to mushrooms. Not only have they developed one of the widest variety of types of mushrooms, but they've managed to bring alive the subtle fragrances of the queen of mushrooms: Matsutake. Dishes such as "dobin-mushi" (steamed matsutake mushrooms in a soup served in a metal pot) really bring out the flavor.
Our chef has started using these delicious-looking matsutake mushrooms in several of our current menu's dishes, including one where he wraps them in aluminum foil and bakes them, as well as the chawan-mushi egg custard. And he just changed the "nabe" (pot dish) to his fall recipe using wild mushrooms from nearby Shioda-daira.
Fall delights waiting for you at Kamesei!