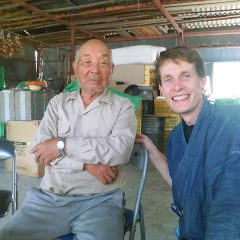 亀清旅館の一番古い建物が大正時代から、隣の坂城村から移築されたと前からお聞きしました。今日、上山田の中島農園にぶどうを買いに行ったら、中島さんの90歳のおじさんと油を売った(?)。色々と話をしたら、中島おじさんがその移築の前の亀清の建物を知っていると分かりました。「坂城の駅前にあった。芸者さんのおきやだった。19歳の時に芸者さんの三味線と太鼓を聴きに行った事がある」と仰いました。
感心しました。歴史の本で読むより、中島おじさんのような「生きている歴史」と話した方が100倍ぐらい面白い。
今度は中島おじさんに亀清に来てもらいたいです。その建物は現在、亀清の大広間として使われていますが、移築前の様子を聞かせて頂きたいです。
I had heard before that Kamesei's oldest building dates back to the Taisho era (early 1900's) and actually was moved to its present location from neighboring Sakaki Town. Apparently it was disassembled, transported, and reassembled here to later become Kamesei Ryokan.
Today when I went to Nakajima Orchards to buy more grapes, I shot the breeze with 90 year-old Nakajima Ojisan. He mentioned that he had actually been inside the building while it was still in Sakaki. "It used to be across the street from Sakaki Station, and had been a geisha 'okiya' (parlor house). When I was 19 years old, I went and heard the geisha play shamisen and taiko."
Wow! It's so much more interesting to hear stories like that from someone like Nakajima oji-san, a "living history", rather than from a history book.
Someday I hope Nakajima oji-san can come to Kamesei and tell me more about what the building was like before being moved here.