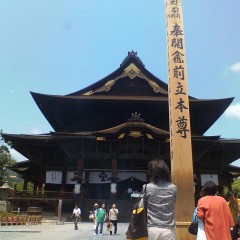 今年の4月と5月は善光寺の七年に一度の御開帳でした。特に後半の方で、亀清旅館でその関係のお客様が多かったです。今日は礼を込めて、家族でおお参りしに行きました。回向柱はまだ立てていました。本堂の中とつないでいる金の糸がもうなかった。柱の下の方に、何十万人が触った後は分かりました。
善光寺さん、この節、有難うございました。
Nagano City's big Zenkoji Temple celebrated its once-every-seven-years Gokaicho this past April and May. Especially towards the end, Kamesei Ryokan benefited from the event as we had many Gokaicho-related guests come and stay here.
Today, we took our sons to Zenkoji to offer our thanks. The 5-meter tall "Ekobashira" column was still standing, minus the gold string that had connected it to the secret image inside the main building during Gokaicho. You could see where hundreds of thousands of people had touched the pillar at its base.
Thank you, Zenkoji!
信州戸倉上山田温泉の亀清旅館のHPはこちらClick here for the website of Kamesei Ryokan in Nagano.