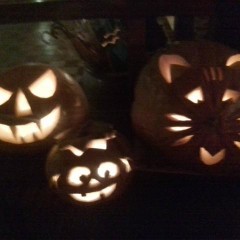 町のハロウィーンのイベントが今週末(10月19日)です。私はまた実行委員長なので特におばけ屋敷に力を入れています。今年はおばけ屋敷をハロウィーンの参加者だけではなく、同時開催のそば祭りの参加者も、宿泊者も楽しめるように10月18日(土)6pm~9pmと10月19日(日)11amから4pmまでやる予定です。おばけ屋敷はかなり怖いぞ!勇気のある方はどうぞ!19日にかぼちゃランタン作りも行いますけど、当日は私たちが忙しいので近所当地の子供達が亀清の玄関で集まって、かぼちゃのランタンを作りました。
Our town's Halloween Festival is this weekend, Sunday 19-Oct. Once again I am the Festival director, and this year I am putting most of my effort into the Haunted House. Last year it was just for the Halloween participants, but this year we are opening it up to guests of the inns as well as the Soba Festival participants. (That goes on at the same time as Halloween.) The hours will be from 5pm to 9pm on Saturday 18-Oct. and 11am to 4pm on Sunday 19-Oct. Come if you dare!
There will be pumpkin carving at the festival, but since I will be busy then, our kids and a bunch of the kids from the neighborhood gathered in front of Kamesei to carve our jack o'lanterns last night.
ハロウィーンin戸倉上山田温泉の詳しくはこちらClick here for info on Halloween in Togura Kamiyamada Onsen