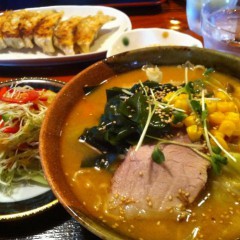 戸倉上山田尾の線で新しいラーメン屋さんが生まれました: 信州小麦ラーメン亀屋。 
実はこのラーメン屋さんは元々ありましたが、旧名「麺'sテーブル亀屋」を面の材料にあまりにもこだわっていて、お店の名前にしました。信州小麦粉ももちろんそうだけど、この千曲市の「夢」小麦粉や珍しい「幻」小麦粉も使ったラーメンを出しています。
なおかつ、旬のメニューもあります。今回は秋野菜味噌ラーメンを頂きました。旬の味だし、ヘルシーな野菜たっぷり入っていて、大変良かったです。
ラーメン替えになるさらしなラーメンもあるし、とにかく独特なラーメン屋さんです。戸倉上山田温泉の宝物の一つ。
Togura Kamiyamada Onsen has a new ramen shop: Shinshu (Nagano) Flour Ramen Kameya.
Actually, the shop has been around a while under the name Men (noodle) 's Table Kameya. But the owner is so proud of using only local wheat flour for his ramen that he included that in the name of his shop.
Kameya also has a seasonal menu, and this time I ate the Fall Veggies Miso Ramen.
Our onsen town Togura Kamiyamada is fortunate to have such a distinct ramen shop!