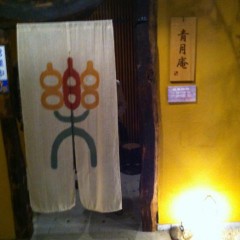 戸倉上山田温泉に青月庵という和食屋さんがあります。この玄関入口の写真の様に、落ち着いて渋い雰囲気奈レストランです。
中にあるかけじゅくは「春風冬霜」って書いてある。聞いたら、「お客様に温かくて優しい春の風の様に喜ばれるおもてなしを提供し、自分達には冬の霜の様な厳しいスタンスをとる」と言う意味だそうです。
先日は海外からのショグループを連れて行きました。ぎりぎりの予約だったにかかわらず、尚且つややこしいベジタリアン要望もあったのに、丁寧に対応して下さりました。
色々苦労なされたけど、お客様は笑顔で帰りました。
春風冬霜
Here in our onsen town Togura-Kamiyamada there is a Japanese restaurant called Seigetsu-an. As you can tell by the picture of their front entrance, it is a quiet, classy establishment.
Inside, they have a wall hanging with calligraphy on it, with the characters for "Spring", "Wind", Winter", "Frost". I asked the owner-chef what it meant. He explained that one must provide agreeable service to ones guests, service that feels warm and friendly like a spring breeze. But towards oneself, you must be severe like a winter frost.
We recently had a small group of foreigners that I took over to Seigetsu-an. Despite the last-minute nature of the reservation, the meal went very well, even with some tricky vegetarian food restrictions and the language barrier. I am sure the chef and his staff had to hussle hard, but the guests certainly left with smiles on their faces.
Spring breeze, Winter frost.
青月庵 Seigetsu-an Tel# 026-276-5650