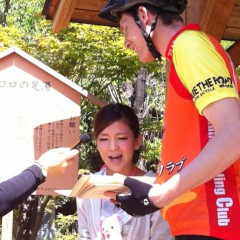 FM長野はまたこの年度、「千曲市浪漫紀行 スイッチバック姨捨」という番組を毎週木曜日12:00-12:49にOn Airします。
今度の5月24日の番組のテーマはサイクリングです。そして、戸倉上山田温泉のレンタサイクルの担当でいる私がゲストになる予定です。その下見の為に、リポーター池田さんとディレクター藤原さんと温泉街を自転車で回りました。
コースは去年に千曲サイクリングクラブと一緒に作った千曲市のサイクリングマップで紹介されている温泉街のコースでした。カラコロ足湯から出発して、途中で寄ったのは:
ピンクと白いツツジが咲いている中央公園
「えっと思われる」特別展示の西澤貯金箱館
飲泉所
怖いぐらい美しい大衆演劇の大勝館
明るい女将さんの十字屋お土産店
薬師神社、
千曲川沿いのサイクリング道路のスタート
大正橋と小石の湯伝説
水上布奈山神社
酒造コレクション
秘密の小路
岡本太郎の作品
万葉超音波温泉の暑い足湯
万葉橋を渡って、「千曲川」カラオケ石
千曲川沿いの噴水公園とつけば
戸倉温泉の本通り
銀座通りとまんじゅ屋さん
上山田温泉の本通り
そして、またカラコロ足湯に戻った。
内の5歳の美咲ちゃんも一緒にサイクリングした。あちらこちらよりながら、2時間かかりました。ちょうどいいコース。ほとんど坂がないし、山辺と川辺の風が気持ちいいし。
当日の番組はどうなるか、楽しみだね。
FM Nagano is once again producing a once-a-week program on Chikuma City every Thursday during the lunch hour. The themd for this upcoming program, Thursday May 24th, is cycling. The special guest will be the guy behind the Togura Kamiyamada Onsen rental cycles -- Me!
Reporter Ikeda-san and Director Fujiwara-san rode with me around the course for a test run. We followed the Togura-Kamiyamada Onsen course featured in the new Chikuma City Hiking / Cycling Map that I made with the assistance of the Chikuma Cycling Club last year.
I don't know how things will turn out for this Thursday's program, but I'm looking forward to it!
FM長野「千曲市浪漫紀行すいっちばっくおばすて」FM Nagano's Chikuma City Program