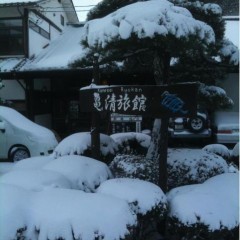 信州の冬はやっと来ました。1月15日の週末から雪が降り出して、大分積もりました。一方では、久しぶりの雪掛けですが、もう一方では雪景色にならないと信州の冬らしくない;亀清の庭が白くなって、ほっとしました。そして露天風呂もあります。外の温泉のお湯を浴びながら、雪が顔にちらちらと降るのは日本の温泉の一番良い所。
亀清の冬の外観の写真です。そして、おまけに亀清の裏の中央公園での子供達と雪遊びの写真。
Nagano's archetypical snowy winter has arrived in full force. The snow started snowing from the weekend of the 15th, and has been piling up since then. With day time temperatures as high (?) as -4 C, the white stuff will be sticking around for a while.
On one hand, I have mixed feelings about getting out the snow shovels, but on the other hand, Kamesei's gardens look so peaceful and pretty when blanketed in snow. And then there's the outdoor bath -- soaking in the onsen water as snowflakes fall on your face is the quintessential onsen experience.
Here is what our inn's facade looks like covered in snow. And, just for good measure, some pictures of our family playing in the snow in Chuo Park behind Kamesei.