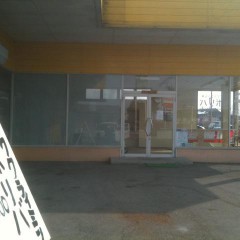 戸倉上山田温泉の近くでロッククライミングの場所がいくつかあって、恵まれている。冠着山はロッククライミングのメッカと言う人もいる。そして、ロッククライミングの練習ができる場所は温泉の近くに先月にオープンした: 「のぼりば」
しなの鉄道千曲駅から歩いて数分、国道18号沿い(温泉から車で約10分)と言う便利なところに、ロッククライミングを室内で楽しめるジムです。現在は平日の夜しか空いていないそうです。今度、子供達を連れて行ってみなきゃ!
Togura Kamiyamada Onsen is fortunate to have a lot of great rock climbing areas in the vicinity. Kamuriki Mountain right behind town is a veritable rock climbing mecca. And now, right here in Chikuma City, a new rock climbing gym opened: 'Noboriba'.
The gym is located a short walk from Chikuma Station on the local Shinano Railway line, or a quick 10 minute drive from our onsen town, conveniently situated on Route 18. Currently it is only open on weeknights from 6:30 to 11pm. But I plan on taking our kids there in the near future.
詳しくはHP Click here for the Noboriba website.