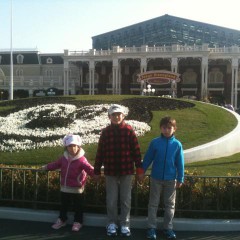 お正月後、我々が疲れて、子供達の学校が始まる前に家族でどこかへ一泊旅行します。個人的に私はほかの温泉旅館に泊まりたがっているが、今年は新幹線に乗って、東京へ出かけて、ディスニーランドとシーに行きました。もちろん、楽しい事は楽しいけど、TDLなりのおもてなしを見て、いい刺激になりました。
今回、一番感心したのはディスニーのマップと持ち歩いているIフォンの地図を見比べれば、お客さんに見せる必要ない部分はどれだけうまく隠しているか、良く分かりました。ディスニーのマップによると、AワールドとBワールドは隣に見えるけど、直接で行けずに、Cワールドを通らなきゃいけない。何でだろうと思って、IフォンのGPSの地図を見て、AとBの間は荷物の配達口になっている。運送トラックが見えないように、うまい具合に壁が立ています。
とか、もっと簡単に言えば、消火器は当然にあちらこちらにあるはずけど、一個も見えない。でも、このマイニングアトラクションの宝箱をよく見ると、「消火器」が書いてある。箱の反対側に覗いてみたら、赤い消火器が確かに入っています。
何でも何でもお客さんの目線を考えて、見せたい物をしっかり見せて、見せる必要のない物をうまく隠す。ディスニーは本当に偉い!
この間、亀清旅館の渡り廊下の横にある洗濯機を隠すために竹の塀を作りました。客室の暖房機、コンクリートブロック塀、そしてもちろん消火器等など、お客さんに見せる必要ない部分は隠す方法をどんどん考えないと駄目ですね。
まあ、ヘビーな事を考えすぎないで、せっかく世界一楽しい所なので写真を提供します。
Every year, in our exhaustion following the New Years crunch and before the kids go back to school, we take a couple of days off to go on a mini vacation ourselves. I personally like to go stay at a different onsen ryokan, but this year our family decided to take the shinkansen bullet train in to Tokyo and go to Disneyland and Disney Sea. Of course, we had a lot of fun, but it was great to see what a good job of 'omotenashi' Disney does.
The thing that impressed me the most this time was walking around using the official Disney map, and comparing it with the GPS map on my I-Phone made me realize how well Disney hides things they don't want the guests to see. World A looked like it was adjacent to World B, but you had to go through World C to get there. Looking on the I-Phone map, I realized there was a major delivery route between A and B. So as to make sure guests didn't see the trucks going in and out, there was a clever wall to block the view.
Or, on an even simpler level, you know there have to be fire extinguishers throughout the park, but walking around, you never see even one. But in one mining-themed attraction, there was a treasure box which upon closer inspection was labeled 'fire extinguisher'. Peeking behind the box revealed it was open with a bright red extinguisher inside.
Again, Disney shows guests what is meant to be seen, and does a great job of putting things that don't need to be seen out of sight.
Here at Kamesei Ryokan this past year, I built a bamboo fence to conceal the washing machine next to our watari-roka passage. But there are the heaters in the rooms, all the concrete block fences, and, of course, the fire extinguishers and what not that should be concealed. This trip to Disney has inspired me to work harder at thinking about what guests see and what they don't need to see.
But enough heavy, philosophical meanderings. Disney is the funnest place on Earth for goodness sake, so here are some of our fun pictures.