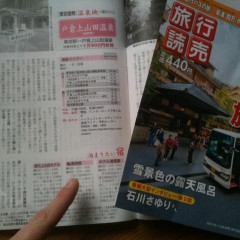 旅行読売の2月号で「温泉直行バスの旅」特集の中で、東京ー戸倉上山田温泉の直行バス、ハーヴェストツアーさんの温泉ライナーが紹介されました。往復で3400円のびっくりする値段で戸倉上山田温泉の中心になるカラコロ足湯で降りれます。亀清旅館の玄関から150mです。
記事の中で、「泊まりたい宿」は3つが紹介されました。その1つは、何と我が宿、亀清旅館でございます。降り場に近い事と、私が以前に戸倉上山田温泉の宣伝キャラバンで皆さんと東京へ行った時に旅行読売の事務所にも顔を出した努力のお蔭でしょう。
まあ、これで東京方面のお客様が便利な、なおかつ手頃の値段の直行バスで戸倉上山田温泉にお越しになって、楽しんで頂けたら幸いです。
The February issue of monthly travel magazine 'Ryoko Yomiuri' has a feature on direct bus services linking Japan's major metropolitan areas with various onsen districts.
One such service is Harvest Tour's "Onsen Liner" linking Tokyo and Togura Kamiyamada Onsen. The price: only 3,400 yen round trip! The bus drops people off in front of the Kara-Koro footbath in the middle of town. It is a short 150 meters from the front entrance of our inn, Kamesei Ryokan.
Part of the article showcases 3 ryokans. One of the 3 suggested inns is ... Kamesei Ryokan! This is probably due to the proximity of our inn to the bus stop, as well as the fact that on our town's last publicity 'caravan' to Tokyo, the other innkeepers and I also paid a visit to Yomiuri's office. If it weren't for making that effort, I'm sure Yomiuri would have never heard of us.
I hope more and more Tokyo-ites make use of the convenient and reasonable Onsen Liner to come and enjoy Togura Kamiyamada Onsen.
旅行読売のHPはこちらClick here for the website of Yomiuri's travel magazine
ハーヴェスとツアーの戸倉上山田温泉ライナーの詳しくはこちらClick here for info on Harvest Tour's Onsen Liner to our onsen town Togura-Kamiyamada.