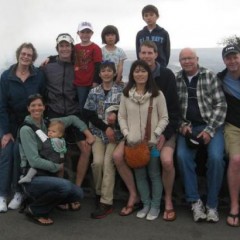 この春休みで2年ぶりで家族を連れて里帰りしました。シアトルからの親と下の弟とヒロに住んでいる真ん中の弟とハワイ島で合流しました。
旅館は犠牲になりましたが、青い目の若旦那なので、うちの子供達と向こうのママ・パパ・従弟と合わせないと…
Volcano国立公園にての家族写真。
For spring break this year, our family took a trip back to the States -- first time in 2 years. My parents and youngest brother met us in Hilo, Hawaii where my middle brother lives.
It was tough closing the inn down for a few days, but we have to give our kids a chance to see their grandparents and cousins once in a while.
Family picture taken at Volcano National Park.