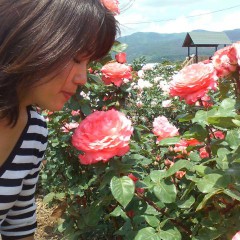 戸倉上山田温泉の隣の坂城町で5月30日から6月14日までバラ祭りが行っています。場所はさかき千曲川薔薇園です。今日は亀清旅館の若女将と2人でデートでその祭りに行って着ました。花より団子じゃないですけど、私にとっては薔薇より坂城の名物「鼠大根」のおしぼりうどんを楽しみにしていた。でも、薔薇は綺麗でしたし、風で流れてきた香りも良かったです。そして、植えたばかりの薔薇はこれから毎年段々と大きくなり、更に綺麗になるでしょう。
デートスポットとして如何でしょうか?坂城の薔薇園。
テクノ坂城駅から約1km。
注:長野市の北側の信州中野市にも薔薇祭りがあります。「一本木公園」でのバラまつりはは6月21日まで行っています。詳しくこちら。
Sakaki is the town next door to Togura Kamiyamada Onsen. Their Rose Festival is going on from 30-May to 14-June this year. Today my wife and I went on a little date to go see the roses at the garden alongside the Chikuma River.
To be honest, I was more interested in the Oshibori Udon noodles we ate for lunch -- they use Sakaki's specialty "nezumi daikon" radish that packs quite a spicy kick for the dipping sauce. But the roses were beautiful, and their lovely fragrance wafted on the breeze to be enjoyed by our noses. Ahh, how romantic.
As a date spot, the Sakaki Rose Festival makes for a lovely afternoon. The location is approximately 1km from Tekuno Sakaki Station on the local Shinano Railroad line.