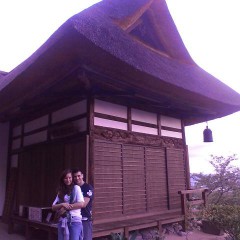 イタリアからのお2人です。ラブ・ラブに見えるでしょう。当たり前です。TatianaさんとRobertoさんはハニームーンで日本に来ました。(新婚旅行で態々戸倉上山田に来て・・・嬉しいね。)
この写真の場所は姨捨の長楽寺です。去年に改造された茅葺屋根です。とってもいい雰囲気です。夜はお2人を「姨捨夜景・伝説ツアー」にも連れて行きました。私はお客さんに姨捨駅のホームにアル俳句投函箱をいつも案内しますが、実際に書いてくれる人が少ないです。でも、このTatianaさんはいきなり、「ペンを貸して」って。尚且つ、イタリア語で書きました。聞いたら、「光る月、夜景きらきら、指輪ぴか」の様な詩だそうです。ロマンチックですね。
Don't these two look like they're in love? Of course they do -- Tatiana and Robert are on their honeymoon. They came from Italy to Japan for their vacation after their wedding.
The building in the background is Choraku-Ji Temple in Obasute. The thatched roof was just re-done last year. It makes for a romantic backdrop.
That night, I took the two on the Obasute Night View / Legends tour. I always show the guests the "haiku post", but hardly anyone every writes a poem. Tonight, though, Tatiana asked for a pen, and wrote a haiku -- in Italian! It was something like "The moonlight glowing, lights of the town glittering, and my ring shining." Ahh, how romantic!