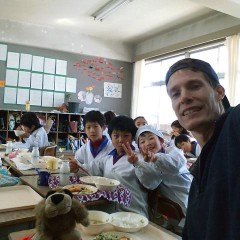 千曲市役所の国際室の関連で私が上山田小学校の1,2年生に英語の授業をやりました。上小はどちらかと言うと既に国際的になっています。タイ系、韓国系、中国系、米国系(我が息子)、最近まではハンガリー系もいました。それでも、外国人に会う機会が少ない子もいます。ですから、「英語の勉強」より、外国人とふれあいの事です。まあ、私のアメリカの文化もちょっとでもShareが出来たと思います。
The International Office of Chikuma City had me go to our local Kamiyamada Elementary School today to help out with an English class. Kami-sho (as it's known) is already fairly international, with students' backgrounds ranging from Thai and Korean and Chinese to American (our son) and (until recently) Hungarian. But some of the students don't have an opportunity to meet foreigners, so more than teaching English, my role is to let the students interact with a real-live 'gaijin'. And, hopefully, I shared some of my American culture with the students.
亀清旅館のHPはこちらClick here for Kamesei Ryokan website.