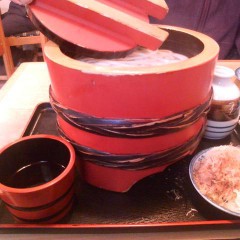 戸倉上山田温泉の白藤と言う食堂に昼食しました。うどん鍋を注文したら、こんなに大きい鍋で着ました。驚きました!温泉で亀清から歩いて行ける範囲で沢山の面白いレストランがあります!
Today for lunch, we went to 'Shirafuji', a little shop in our onsen town. I ordered the 'Nabe Udon', and was surprised by how huge the pot was! We are fortunate to have lots of interesting restaurants here in Togura Kamiyamada, all within easy walking distance of Kamesei Ryokan.
亀清旅館のHPはこちらClick here for Kamesei Ryokan website.