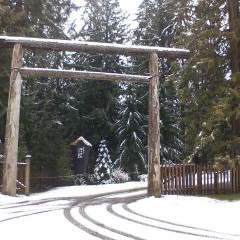 From when I was a little kid growing up in Seattle, my parents had a cabin outside of Granite Falls. We would drive up there practically every weekend in the summer, and every time we would pass this interesting arch. I had no idea what it was, but then when I got into college and first visited Japan, I saw something similar at Shinto Shrines. I finally put 2 and 2 together, and realized there had been a shrine in Granite Falls, the Tsubaki Grand Shrine -- the first shinto shrine in North America. Check it out at www.tsubakishrine.org. The priest, Rev. Barrish, does an impressive "o-harae" ceremony.
シアトルで育たれた中で、親がシアトルから車で一時間ぐらい離れている山の方でちょっとしたキャビンがありました。行く度にこの門を通りました。そして、大学のころに始めて日本に行ったら同じような門を沢山見た。神社の鳥居だと分かってきたが、まっさかこのアメリカの山の方に神社があると?しかし、真さにそうです。「アメリカ椿大神社」へよこそ!www.tsubakishrine.orgにて。
亀清旅館のHPはこちらClick here for Kamesei Ryokan website.