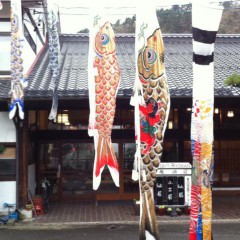 いよいよゴールデンウィーク2012年の始まり。これからは子供連れのお客様で我が亀清旅館が賑やかになります。お子さん達が喜ばれるように亀清の玄関にでかい鯉のぼりを飾りました。彩で良いですね。
日本に引っ越す前にシアトルの家でもボイズディーの為に鯉のぼりを飾った。周りの皆は意味がきっと分からなかったでしょう。でも、日本の楽しい習慣だと思って毎年飾りました。
今度は亀清で生活で思い切りでかい鯉のぼりを飾れて、嬉しいです。
Golden Week 2012 has finally started! Throughout this holiday period, Kamesei will be welcoming many guests with children. So our inn will be blessed with pitter patter of little feet. In honor of GW's Boys Day, we put up our huge koi-nobori carp streamers in our driveway. Hopefully all the kids that will be coming this week will enjoy the colorful streamers.
When we were living back in Seattle, we often decorated the front of our house with carp streamers. Probably none of our neighbors knew the significance, but I did it anyways because I like Japan's Boys Day tradition.
Now that we are here in Japan, we go all out with these huge streamers. Enjoy Golden Week, everyone!