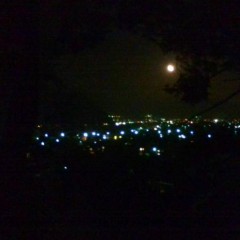 昨日の梅雨の雨で、空気が綺麗になりました。そのお蔭で夕べの月の出がうんと綺麗でした。三日前ぐらいが満月でしたのでお月様がまだ大きくて、明るかったです。
満月の時、大体曇っていました。本来なら、この満月で姨捨の棚田の「田毎の月」のチャンスでした。田植えが終わったばかりで稲がまだ短いから、お水が払ってある田んぼに反射するお月様が見えるはずです。しかし、残念ながら、曇っていて月が隠れていました。
まあ、今の月が十分綺麗で、上山田の村の方の光と良い雰囲気でした。場所は亀清旅館から歩いて10分ぐらいの波閉科神社でした。
Yesterday's 'tsuyu' rains cleared out the sky nicely, so last night's moonrise was especially pretty.
The full moon was about 3 days ago. Ideally, this would have been the perfect full moon to see the famous "ta-goto-no-tsuki" (moon reflecting in the individual rice paddies) at the nearby Obasute Terraced Rice Fields. This is when the rice fields have water in them (to reflect the moon) and have just been planted, so the seedlings are still small. However, this year, it was cloudy during the full moon.
This view of the moon, past its full stage and coming up over the town of Kamiyamada as opposed to the rice fields, still was picturesque. Photo taken from Habeshina Shrine, a 10 minute walk from Kamesei.