先日は常連のお客様の送迎でさくらんぼの出荷場に寄ってお土産に買ってあげました。The other day I was driving some longtime guests home and stopped at a cherry stand and bought them some as a gift.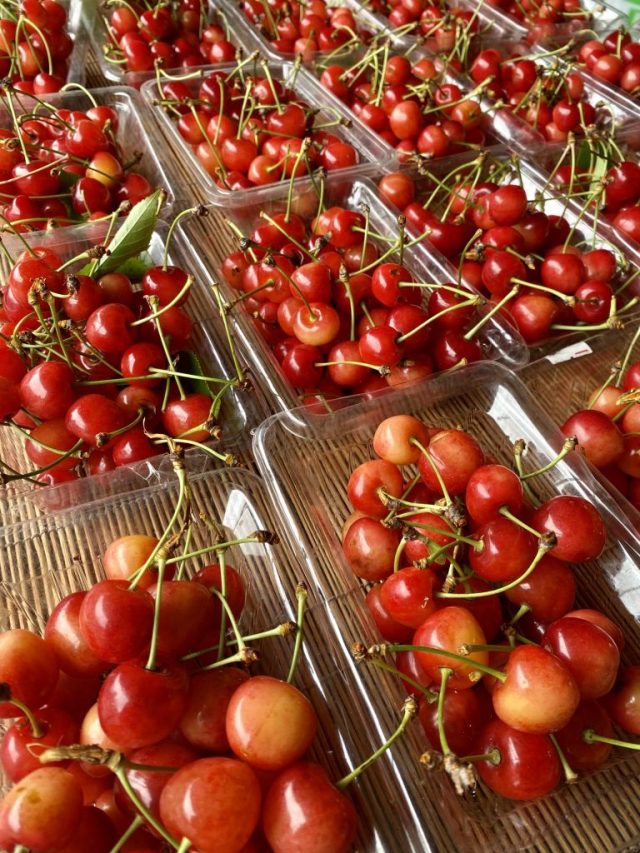 お客様は90代の女性お二人です。前回に送迎した時はハゼ掛けの時期でしたのでせっかくだから姨捨棚田をサービスで通りました。お二人に凄く印象的だったのようで、今回の滞在で「素敵な思い出だった」と何回か言ってくださりました。(90代の割には頭がしっかり…) The guests were a pair of ladies in their nineties. Last time they came it was rice harvest season so on the drive here I took them through the Obasute Rice Terraces. Apparently the scenery made a big impact on them because they couldn't stop talking about it. (Both of their minds are quite sharp for being in their nineties.)
今回の送迎でより大きな印象を、と思い、しかし、何が良いかと悩みました。そして、途中にさくらんぼの出荷場があると思い出しました。シーズンが短いんですが運が良く販売してました。On the drive this time I was hoping to do something that would make an even bigger impact. Then I remembered there's a cherry stand along the way. Cherry season is so short but fortunately they were open.
お二人は朝採りのさくらんぼが初めてだった様で、大喜び。90代の方を喜ばせるのはなかなか難しいですが、おかげ様で大成功しました!It was their first time to have fresh-picked cherries so they were very pleased. It's not everyday that you can make a pair of ninety year olds happy but this was an outstanding success!
次回はさらに大きな印象が出来る様に、青い目のおもてなしにおまかせください♪ Next time I've got to think of something to make an even bigger impact, but that's what hospitality is about.