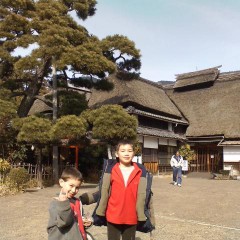 戸倉駅前に立派な萱葺きの屋根の建物があります。通る度に「凄いな」といつも感動します。こょうは我が僕達を連れて、見学しました。坂井銘醸「酒造コレクション」と言う酒屋の博物館です。詳しくはhttp://sakagura.co.jp
In front of Togura Station is a huge building with a classic thatched roof. Every time I drive by it, I think, 'Wow -- this has to be hundreds of years old.' Today I took our 2 sons for a tour. It's called Sakai Meijyou 'Shuzou (Sake Brewery) Collection', and inside is a museum of sake brewing.
亀清旅館のHPはこちらClick here for Kamesei Ryokan website.