The Jigokudani Wild Monkey Park and the world-famous Snow Monkeys are an easy 25-minute train and 45-minute bus ride (plus a 30-minute walk through a beautiful cedar forest) from Kamesei Ryokan and our onsen town Togura-Kamiyamada.
Here is a convenient train and bus schedule for Summer / Fall 2023.  There was a baby rush this past spring, so a plethora of adorable baby snow monkeys are waiting your visit.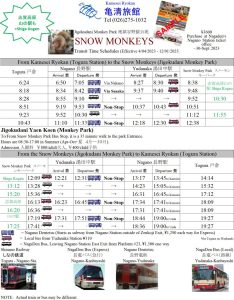 While there are group tours available from Nagano Station, many of our guests use Nagaden's express bus as per the above schedule, and enjoy the freedom to travel at the times they like.  And by buying the Snow Monkey Pass at the Nagano Dentetsu subway ticket counter below Nagano Station's Zenkoji Exit, besides saving money you can avoid the hassle of figuring out what/ how/ when to pay for transportation to and from the trailhead.
One last word of advice -- make sure to recharge your camera's battery before going as you will be taking lots of pictures!