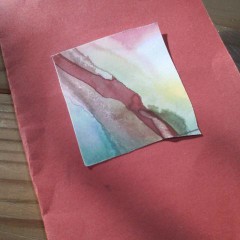 亀清旅館に泊まる県外からのお客様の皆に「信州に来たきかっけは何でしたか」と必ず聞きます。意外に多い理由は安曇野のちひろ美術館です。周りの庭も有名です。昨日は家族でドライブで行ってみみした。(1-ポイントアドバイス:高速道路より国道403号がお勧め。信州の田舎の風景に楽しい山の道だ。)
美術館に入ったら、夏の体験コースの準備していて、チラシの写真の為に長男がデルモになってくれないかと。写真は長男の作った作品です。
ナイスドライブ、ナイスガーデン、ナイスミュジアム、そしてデルモのナイスタイミングでした。
I always ask the out-of-town guests here at Kamesei Ryokan what brought them to Nagano. A surprising number say the Chihiro Art Museum in Azumino, famous for its lovely garden.
Yesterday, our family went for a drive to check it out. (1-Point Advice: take Rt. 403 instead of the freeway. You'll get to see some of Nagano's beautiful rural countryside, as well as it being a fun, windy mountain road.)
When we went into the museum, they happened to be preparing for their Summer art classes and needed a model for pictures for the brochure. So our son Andy volunteered. Pictured is the card he created.
The outing was a nice drive, a nice garden, a nice museum, and nice timing with Andy's modeling.
ちひろ安曇野美術館のHPはこちらClick here for the Chihiro Azumino Art Museum website