As you enter our spacious lobby, relax a moment to enjoy its fine woodwork and rustic charm.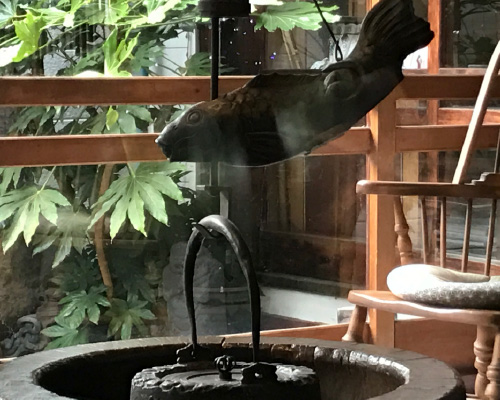 Take in the serene view of the 'naka-niwa' garden and koi pond.
Then, follow the passageway through the garden to your guest room.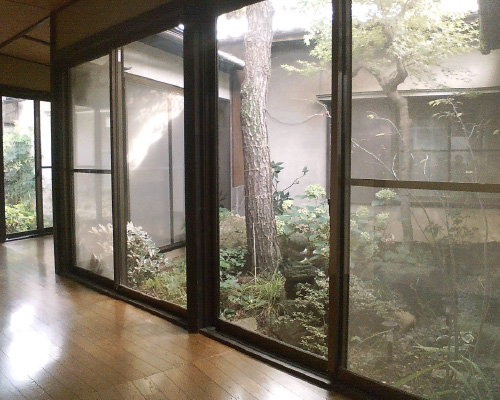 Sit down on the tatami mat floor and let yourself unwind with a cup of tea as you enjoy the tranquil ambience of the room.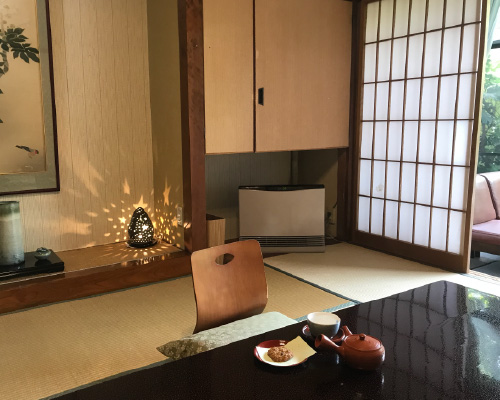 Open the shoji screens for views of your private garden. Feel free to change into the comfortable yukata robe. (Be warned that you may never want to change back to your Western-styled clothes again.)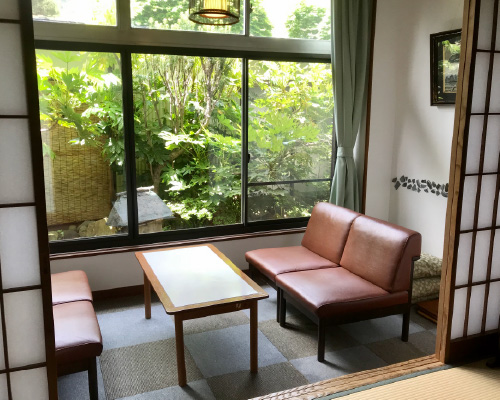 Your experience here at Kamesei Ryokan will take you far away from the stress and hustle of the outside world, and to a deep, soothing calm.
Our Inn
Originally built as an okiya (geisha house), Kamesei Ryokan's oldest building dates back to the early 1900s. It has been added on to and added on to since, with the lobby built in the late 1960s. In the middle is the naka-niwa central garden and koi pond and there is a watari-roka passageway crossing over to the hanare semi-detached guest rooms. While many ryokans have torn down such structures and built multi-storied ferro-concrete boxes, Kamesei Ryokan still has many of the original wooden buildings intact and we intend to preserve them for generations to come to enjoy their warmth.
They labyrinth-like layout can be a bit confusing, and there is no centralized heating so the public spaces tend to be bitterly cold in the winter (and stifling hot in the summer) but the guest rooms have modern heating and air conditioning.
Nagano's winters tend to be cold with temperatures hovering around freezing for weeks on end, but soaking in the onsen baths is a soothing way to warm your body. Likewise, summers can be hot and humid but it cools down enough at night that people here don't need air conditioning to sleep, and our lobby usually has a breeze passing through from the pond.
Facilities & Extra Touches
Lobby

Kamesei's lobby is spacious enough that it could have been split in to two floors for guest rooms on top but instead we use the expanse to gracefully welcome our guests. The central accent piece is an antique irori hearth. On one side is a wood burning stove and piano, and book shelves with an extensive collection of brochures and travel information. On the other is the front desk with more brochures and a small selection of local specialties for purchase. In between is the sitting area around the irori, with a rocking chair as well, for enjoying views of the central garden and koi pond.

Gardens

Our gardens start with Japanese pine tree at our entrance, which is in many ways the main symbol of our inn. The central garden and the many tsubo-niwa pocket gardens along the corridors and attached to the guest rooms feature a variety of plants and trees that provide a constant parade of colors from spring to fall, as well as often being a backdrop to snowy scenery in winter. Azaleas and hydrangeas are especially plentiful as well as many plants that are representative of Nagano Prefecture.

Family-friendly

We try to be as welcoming as possible to families with children, with a Thomas the Train wooden train set and a hobby room with table tennis, Lego blocks, a toy kitchen and mini-library with everything from picture books to novels. For our Kids Special stay plan, we also provide a dessert after dinner for children. Besides offering a family bath that can be reserved for private use, we also have a baby's bath available so infants can enjoy the onsen water, too.
Other general amenities include a cold water cooler and a refrigerator for purchasing bottles of fresh milk and other drinks. There are also a couple of smoking areas.

Geisha Show & Other
Live Performances

Originally built as an okiya (geisha house)

Lobby Piano

Guests are welcome to play our upright piano. Can be used for lobby concerts -- please inquire if your group is interested in performing.

Water Cooler & Refrigerator

Bath Entrance: Water and Mini-Museum
A cold water cooler and a refrigerator for purchasing bottles of fresh milk and other drinks

Smoking Areas

All guest rooms and public areas are no-smoking (including e-cigs)

Exploring the Onsen Town

Wooden geta sandals are set out in the lobby and we encourage guests to wear them with their yukata robe and go for a stroll around town. Ask us at the front desk for a walking map and we will gladly give tips for where to explore.

Gift Shop

Limited selection of local specialty products for sale. We also have a booklet of local shops and their goods in each room and will gladly arrange for them to deliver here so you can take a bit of Nagano with you.

Brochures Stand

Assortment of brochures from various places of interests and sites in Nagano.
Need more info or have specific questions? We have a broad knowledge of places and activities throughout the prefecture.

Banquet & Meeting Rooms

Our three banquet rooms can be configured into sizes varying from 12-tatami mat (perfect as a private dining room for a small group) to the 56-tatami mat large hall complete with a stage that can accommodate groups of 40-50 people. The medium room can be set up with tables and chairs for up to 35 people.

Fireplace

Locally-made wood burning stove. Cozy up on one of the sofas by the fire.
For Your Stay
Check-in: 3 p.m./ Check-out: 10 a.m.
No curfew/lockout
Free WiFi in the lobby and guestrooms
Credit cards are accepted
No smoking in the guestrooms
(Designated smoking areas are available on the premises.)