Our onsen baths are the heart and soul of our inn. Here at Kamesei Ryokan we provide Kamiyamada's natural hot spring mineral water straight from the source, 100% free-flowing 24 hours a day. Kamiyamada's onsen water is richly high in sulfur content and is luxuriously alkaline, with a pH of around 8.6 and the minerals have an effect of leaving your skin feeling silky-smooth. The temperature of the baths is an average of 41 degrees Celsius with 40-42 degrees Celsius considered pleasantly warm in Japan's onsen circles. (Note: Temperature varies with changes in the weather.) Our 6 main baths are the men's large indoor and hand-made river rock outdoor bath, women's smaller indoor and it's two outdoor baths, and our outdoor family bath. We usually change the men's and women's baths at night so both sexes can enjoy all the communal baths.

Men's Indoor Bath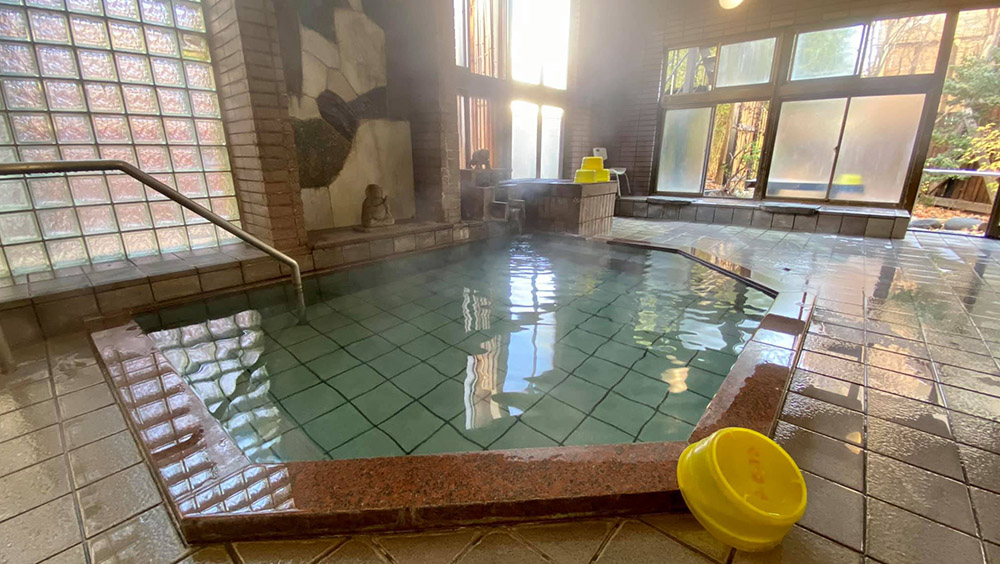 Stretch out and indulge in a rejuvenating soak in Kamesei's largest onsen bath. The 'yuguchi' (onsen spout) features a ceramic turtle made by an art collective near the proprietor's hometown of Seattle.
"100-Year Bath" Open-Air Bath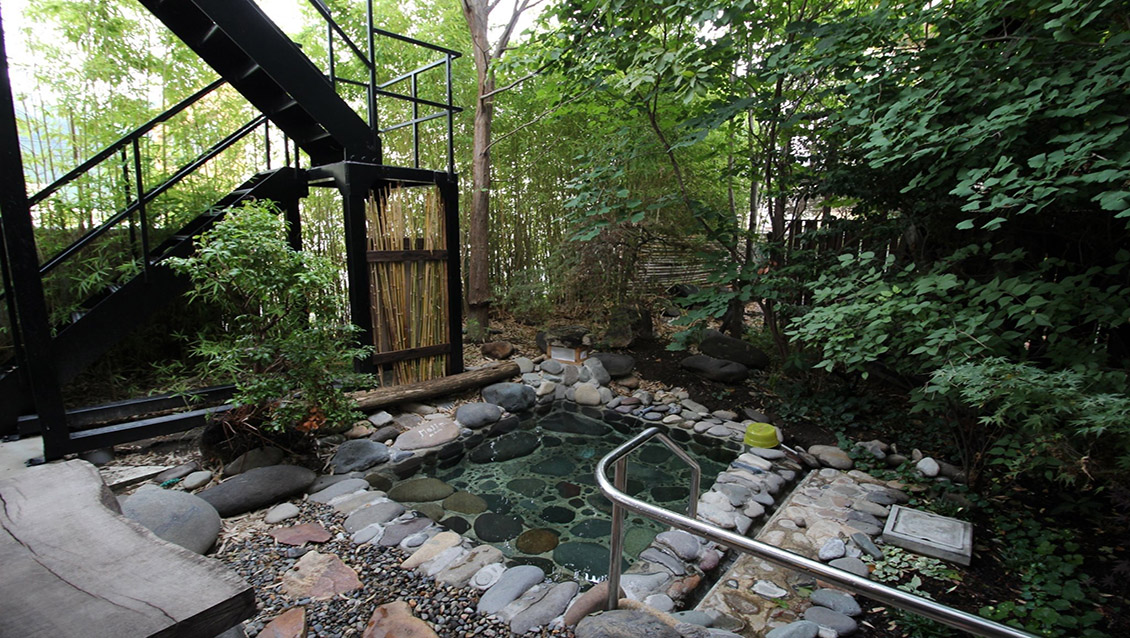 Kamesei's pride and joy is the 100-Year bath, made by hand by the proprietor, Tyler. It features mementos of Togura-Kamiyamada's over 100-year history. In honor of the Chikuma River which flows through the middle of the town, the bath is made of river rocks. The garden features a mixture of plants and trees creating a natural environment for enjoying the onsen water and for soaking in the starlight at night.
Women's Indoor Bath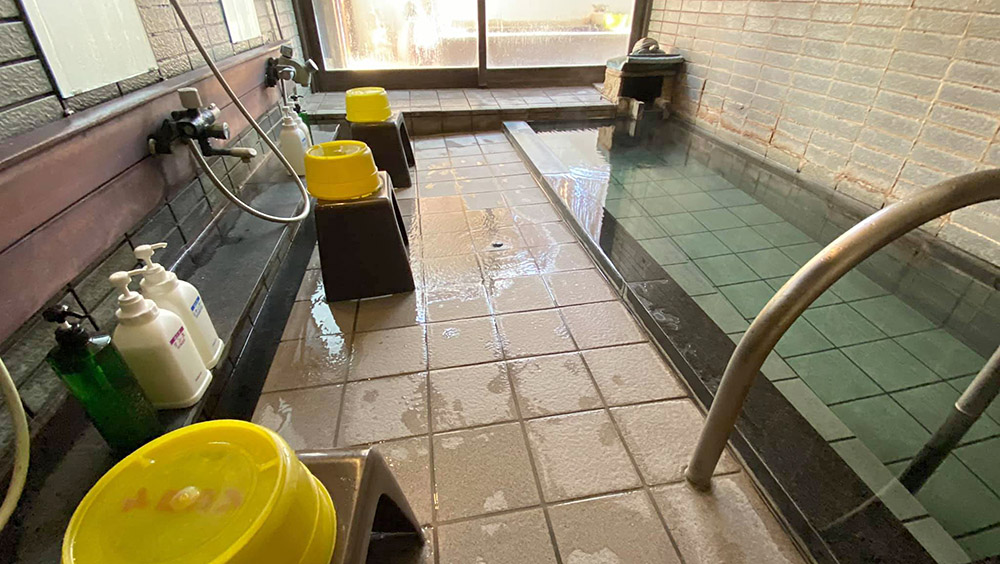 The women's indoor bath's relatively small size is made up for with having no one but two outdoor baths to enjoy. It is looked over by a colorful turtle made by local ceramic artist, Hungarian-born Agnes Husz.
Red Cedar Outdoor Bath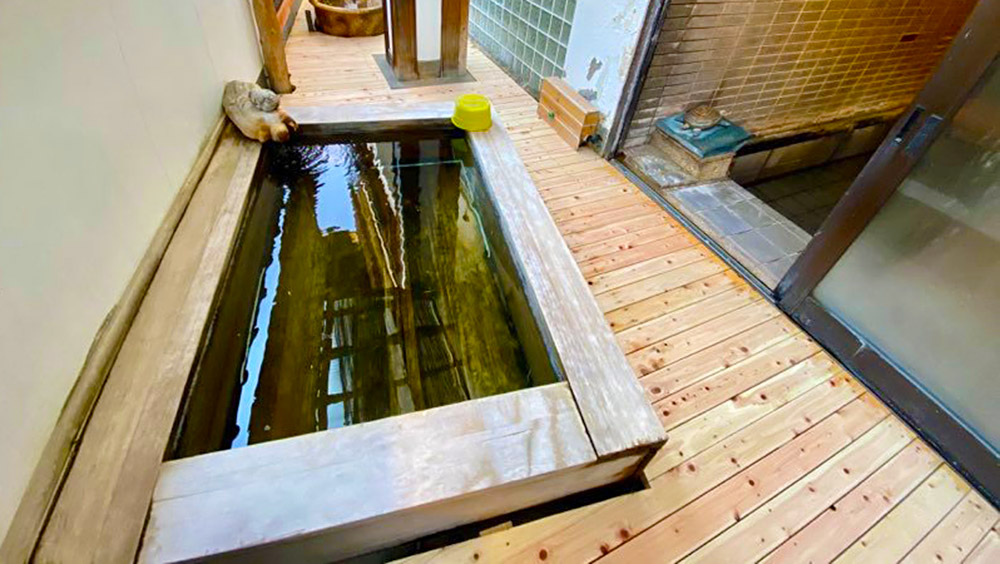 One of 2 baths located outside the women's bath. It is made entirely of "Hiba" (red cedar) which is the perfect complement to Kamiyamada Onsen's rich mineral water. Surrounding the bath is a bamboo slat fence hand-made by our proprietor.
Ceramic Outdoor Bath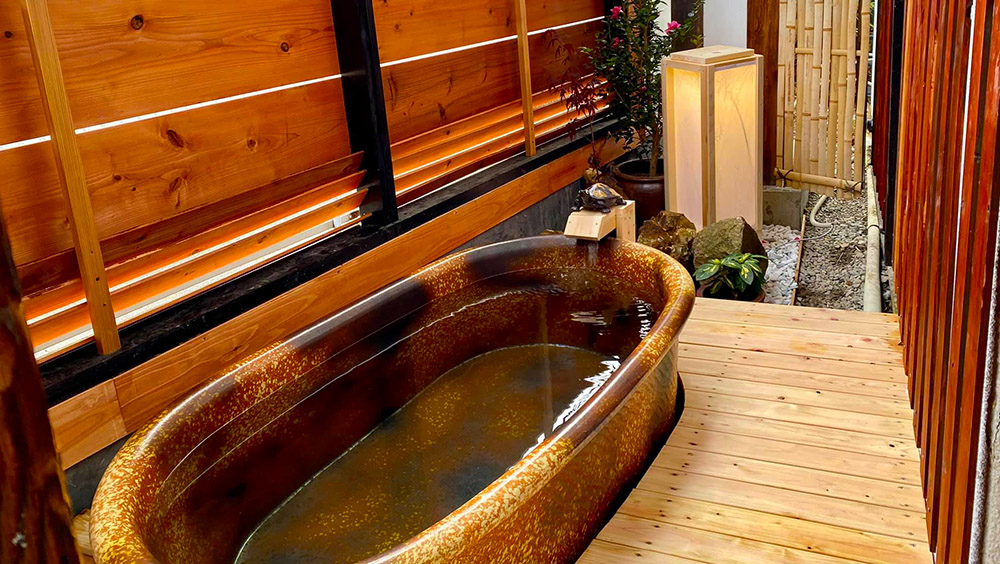 The 2nd of two baths located adjacent to the women's indoor bath. Made of Shigaraki-yaki, Japan's most famous ceramic for baths, it has turtle on its onsen spout from the same ceramic as well as a pocket garden.
Family Outdoor Bath "Shinano-Buro"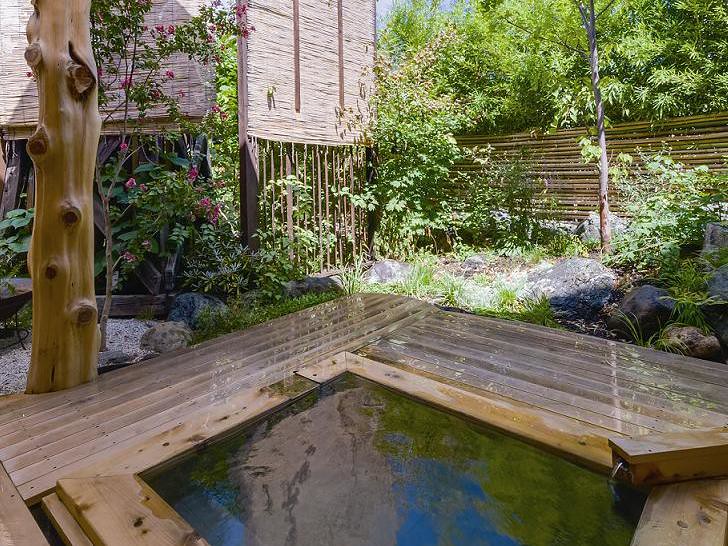 Shinano-Buro is situated in its own garden that features a Shinano tree, the namesake of Nagano's historical name. It is made of tiles and features a hinoki (Japanese cypress) border. The bath can be reserved for private use. Please inquire at the front desk. For repeat guests, we offer the bath for free. Otherwise a separate charge of 2000 yen / 45 minutes applies.
Learn about Onsen Baths
First time for onsen? Watch this video that we helped produce for tips on how to best enjoy soaking in our onsen baths.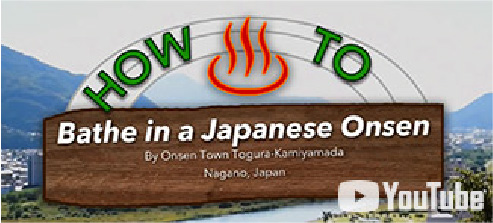 All of Kamesei Ryokan's onsen baths are tattoo-friendly.
If you feel uncomfortable bathing with strangers for tattoos or any reasons, we also have our family outdoor bath that can be reserved for private use.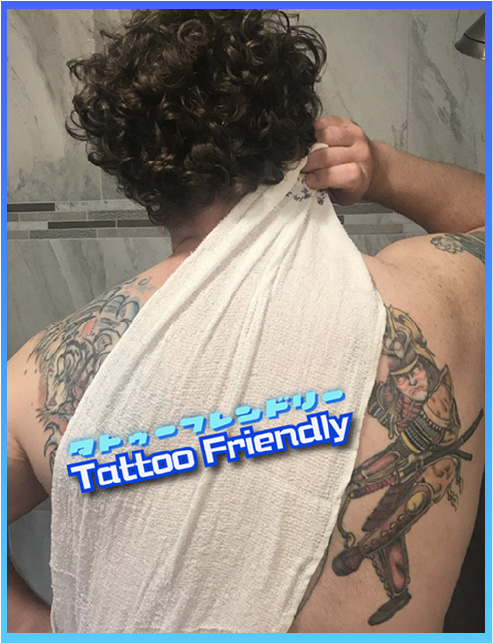 Hot Spring Properties
Hot Spring
Kamiyamada Onsen
Temperature
47.3 C at the source
Spring Type
Pure sulfur spring (slightly alkaloid)
Efficacy
Neuralgia, sore muscles, anxiety, paralysis, stiff joints, bruises,
sprains, stomach and intestinal problems, chills, quick recovery
from illness, general improvement of health, women-specific
ailments, cuts, diabetes.