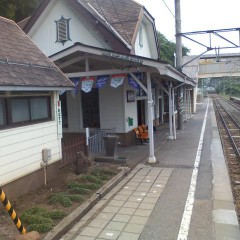 2010年の秋にJRのデスティネーションキャンペーンは長野県を全国的に紹介する予定だそうです。それを向かって、既に準備が始まっています。テーマはウォーキングです。この戸倉上山田温泉では、既にエコ・健康の商品の造成活動が始まっています。(ちなみに、私が委員長となっています。)
千曲市の唯一のJRの駅、姨捨、はどういう役割になるでしょうか?今日はちょっと下見しに行きました。JRは既にホームの看板を新しくしたし、色々な特別列車の予定を立てているようです。
この姨捨駅はスイッチバック形式で鉄道ファンに人気だし、姨捨の棚田はホームから見えるし、善光寺平の夜景も綺麗なのでその原風景・夜景ファンに人気、「田毎の月」や「姨捨山」の伝説がちなんでいるので歴史ファン、俳句ファンにも人気です。魅力たっぷりの姨捨駅は今度のDCにどうやって活動できるでしょうか?
In fall of 2010, JR Group will feature Nagano Prefecture in a Destination Campaign. The theme will be "Walking". Here in Togura Kamiyamada Onsen, we are already working on preparing Eco / Fitness activities to promote during the DC. (Yours truly is the top coordinator.)
Chikuma City's sole JR station is Obasute on the Shinonoi Line. Today I went there to explore the possibilities for the upcoming DC. JR has already replaced the platform signs, and is apparently planning on special event trains for the DC.
Obasute Station is set up in "Switchback" style, making it popular with railroad fans. It also has a great view of the Obasute terraced rice fields as well as the Zenkoji Plain whose lights are beautiful at night, making the station popular with fans of natural scenery as well as night views. In addition, the area is connected with the "Ta-goto-no-tsuki" (moon reflecting in the individual rice paddies) and "Obasute-yama" legends, making it popular with history as well as haiku fans.
How can we make the most of Obasute Station with all of its fascinating aspects, for the upcoming Destination Campaign?