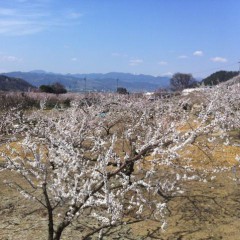 この冬は長くて寒かったけど、満開となった森地区「杏の里」の杏の花を見ればそのつらさが忘れららます。
戸倉上山田温泉から車で15分、千曲市の春代表のイベント、杏の里のあんずまつり。今年は約2週間遅れましたが、やっと咲いてきました。19日に通りましたが、農村の谷、森の全体が杏の花の薄いピンク色となっています。
春の気分にしっかりなりました。
この冬は寒かったけど、その分であんずの花は更に綺麗に見えます。
4月21日・22日の週末は花が見ごろで、様子を見ますが4月の終わりぐらいまで残るかもしれません。
この戸倉上山田温泉の花見スポット、中央公園の桜も満開です。女将の会のおでん・飲み物のブースは4月20日~22日です。亀清旅館のすぐ裏です。ぜひ、楽しんでください。
It's been a long, cold winter, but seeing the apricot trees in full bloom in Mori Valley (aka "Apricot Village") makes me forget about all that harshness. Mori is a 15 minute drive from our onsen town, Togura-Kamiyamada, and the apricot blossoms there are the highlight of spring for all of Chikuma City.
I drove through the valley on the 19th, and was met with the most beautiful sight of this rural valley literally covered in the delicate whitish-pink apricot blossoms.
Spring is finally here!
The blossoms will be in their peak the weekend of the 21st and 22nd. Depending on what the weather does, they may be around 'til the end of April.
Meanwhile, the cherry blossoms in Chuo Park behind Kamesei Ryokan, our inn here in Togura-Kamiyamada Onsen, have also come into full bloom. The local ladies guild is selling food and drink this weekend, so 'hanami' revellers should be able to enjoy the blossoms.