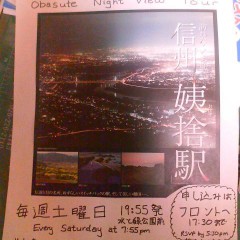 以前に報告した様に、私が個人でお客さんに提供していた姨捨夜景・伝説ツアーが千曲市観光協会に取り上がれて、毎週土曜日にちゃんとした(有料)のツアーになりました。今日はせっかくポスターも作ったし、お客さんをリクルートしたのに、申し込んだら「人数が集まらなかった為に中止だ」と言われてしまいました。仕方が無い、私の無料ツアーが行いますので宜しくお願いします!
As previously mentioned, the Obasute Night View Tour that I often give as service to our guests has been taken over by the town's Tourism Bureau and has been turned into an official (for-pay) tour every Saturday night. Today, I went through all the effort of making a poster and recruiting a couple of guests, but when I called to make the reservation I was told tonight's tour has been canceled due to lack of guests. So, I will just have to do my regular (free) tour instead!
亀清旅館のHPはこちらClick here for Kamesei Ryokan website.