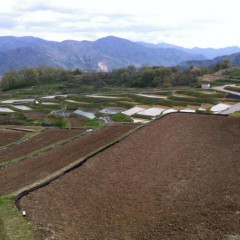 戸倉上山田温泉から車で10分の姨捨(「田毎の月」で有名な)棚田では田植えの準備がだんだんと進んでいる様子。一部の田んぼは水がもうはってある。
という事は、伝説の「田毎の月」のじき。次の満月が5月6日(日)だ。千曲川の棚田から向こう側の鏡台さんから上るお月様はちょうど位置的に姨捨の棚田に田んぼ毎に移るという言い伝えがある。
俳句の松尾芭蕉や一茶、浮世絵の広重などの作品はこの田毎の月を謳います。皆さんの詩が待っています。
10 minutes by car from our onsen town Togura-Kamiyamada are the famous moon-reflecting terraced rice fields of Obasute. Preparation for rice planting is proceeding -- several of the fields are already flooded in advance of the planting.
That means its time for the moon reflecting. The next full moon will be on May 6th. When the full moon rises over Mt. Kyoudai on the far side of the Chikuma River, it comes up in such a position so as to reflect in the individual rice paddies. (A little sake no doubt helps to see it properly.)
Many haiku poets and ukiyoe artists have come to see the moon reflecting in the Obasute rice fields. Perhaps the moon can be your muse, too.