ちくま割りの第3戦は2022年8月1日~10月31日に実施されます。5000円以上の宿泊費に3000円割引そして飲食店やマッサージの1000円キャッシュバック券も付きます。なおかつ、射的券もあります!
亀清旅館のちくま割り枚数が限られています。皆さんに当館の新しくできた露天風呂付きを是非にに楽しんで頂きたいのでその部屋のご予約を優先させて頂きます。詳しくはメールやお電話でお問い合わせをお願い致します。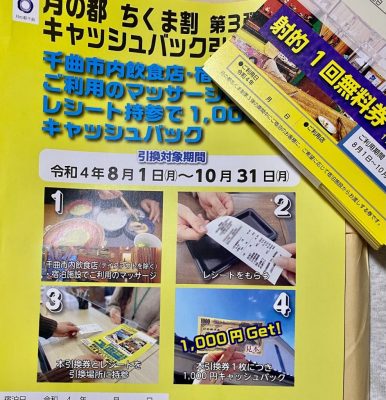 Chikuma City's 3rd round of the Chikuma-Wari Discount will be from 01-Aug through 31-October.  The discount is for 3000 yen off of accommodation prices 5000 yen or higher.  Included is a 1000 yen cash-back coupon good for eating in at local restaurants and/or massage at our inn.  In addition, there are now coupons for shateki shooting parlors, too!
Kamesei Ryokan's number of Chikuma-Wari discount tickets is limited.  We want to have guests enjoy our newly-constructed guest rooms with private onsen baths, so reservations for those rooms will be prioritized.  Call or e-mail us for more information.
亀清旅館 Kamesei Ryokan ☏ (026)275-1032  ✉omotenashi@kamesei.jp