長野県民及び近隣県の皆様、二つの割引キャンペーンが実施中: (English Follows)
長野県の「県民支えあい 信州割SPECIAL 宿泊割」
☆延長と拡大☆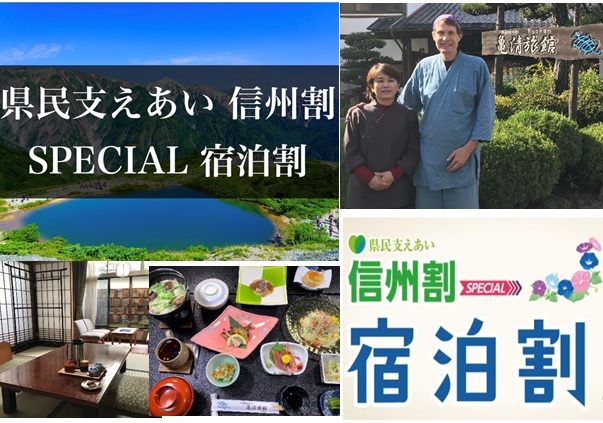 ■ 長野県のSPECIAL割のは延長(R4年5月31日までご利用可能)そして長野県民に追加で近隣県の皆様に拡大(群馬、埼玉、新潟、富山、石川、福井、山梨の皆様)その条件: 新型コロナワクチンを3回接種済 又は 検査結果が陰性であること)
長野県民及び決まった近隣県(群馬、埼玉、新潟、富山、石川、福井、山梨)のお住まいの方限定最大5,000円割引となります。
更に地域共通クーポンが2,000円が付きます。
ご利用期間はR4年5月31日のご宿泊まで延長になりました。なお、4月29日(金)~5月8日(日)宿泊分は割引除外期間です。
新型コロナワクチンを3回接種済 又は 検査結果が陰性であることが条件です。
<割引額>
お一人様1泊あたり
10,000円以上のご宿泊→5,000円割引+地域共通クーポンが2,000円
※2泊までは割引対象のため、連泊での利用も歓迎致します。
<ご利用時のご注意>
・支払い方法は現金・現地クレジットカード決済とさせていただきます。ご予約はこちらから
■ 千曲市のリフレッシュチケット
千曲市独自の「月の都ちくま割」もございます。を提供しています。
<割引額>
5,000円以上の宿泊費に3,000円割引+千曲市飲食店1,000円キャッシュバック
<ご利用時のご注意>
・枚数に限りが有ります。ご利用なされる場合は直接で亀清旅館にお問い合わせ下さい。Tel(026)275-1032
※利用対象期間:~令和4年7月31日(日)
県SPECIAL割とちくまリフレッシュチケットの並行したご利用:
県SPECIAL割の枠が割りと余裕がありますので気楽にご利用して頂けます。千曲市リフレッシュチケットの枚数が少ないので、露天風呂付き部屋のご予約優先とさせて頂いております。露天風呂付きの客室を皆様に是非に楽しんで頂きたいと思っております。
Nagano Prefecture and Chikuma City are offering 2 discount campaigns you can use to stay here at Kamesei Ryokan.
Nagano Prefecture's "SPECIAL-WARI" for residents of Nagano Prefecture or select neighboring prefectures (Gunma, Saitama, Niigata, Toyama, Ishikawa, Fukui and Yamanashi): 5000 yen discount for accommodation fees of 10,000 yen or more, 2500 yen discount for 5,000-9,999 yen.   In addition, each person receives 2000 yen in coupons that can be used at area businesses.  The discount applies to stays  through 31-May (Tues) 2022 (except 29-April to 08-May).  All guests must be triple-vaccinated for COVID or have tested negative  (present proof at check-in).
Chikuma City's "Tsuki no Miyako Chikuma-Wari": 3000 yen discount for accommodation fees of 5,000 yen or more for  stays through 31-July 2022.
Restrictions apply so please inquire (Tel 026-275-1032, e-mail omotenashi@kamesei.jp) and we will gladly make your reservation.