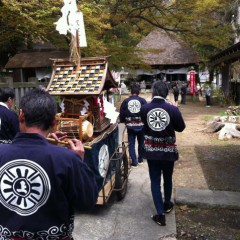 創建1573年である国の重要文化財に指定されている上山だの智識寺の本堂で4月17日に春季例大祭が行われた。室町時代の造りの大御堂は立派な茅葺屋根で、その歴史に合う伝統的な儀式が見れて、昔の日本を感じる。
そこで、私達上山田神楽保存会が呼ばれて、獅子舞をやりました。
今年は上山田保育園の子供達が遠足で来てくれて、お寺の庭で子供たちの為にも獅子舞をやりました。
昔の時代を感じれるお寺と祭りに、次の時代を向かっている子供達、同じ獅子舞にしても感覚が違うね。
Built in 1573 and designated as a national important cultural property, the main hall of Kamiyamada's Chishiki-ji Temple hosts an annual spring ceremony every year on April 17th. With its Muromachi-era style construction and massive thatched roof, Chishiki-ji simply oozes history. The ceremony is a reflection of that history, and is a unique opportunity to see a slice of Japan's ancient past.
As with every year, the Kamiyamada Kagura lion dance troupe (of which I am a member) was invited to perform. It is quite an honor to be invited, and I felt very humble to have the privelege of playing my flute there.
This year, the Kamiyamada Preschool kids took a field trip and visited the temple for the festival. Our lion dance group also performed for the children in the temple's park.
It was the same lion dance, but the two settings -- in front of the venerable temple for the serious ceremony, and for the bubbly, giggly preschool kids -- couldn't have been more different!