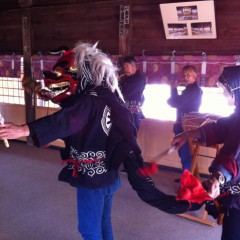 感心しました。
上山田神楽保存会(私は獅子笛をやっています)で上田市塩田平の西光寺の八十八夜際に呼ばれて、その足で近辺の生島足島神社に行きました。ご祈祷を受け、神楽殿で獅子舞の演奏しました。
お神楽として、人にお祓いをするのに慣れているが、東信の代表の神社、日本のおへそと言われて日本全体を守る生島足る島神社でご祈祷を受けて、そしてその神楽殿で獅子舞の演奏も出来て、感心しました。
上山田神楽保存会の次の獅子舞の予定は5月6日3時ごろに善光寺の前で踊る予定です。私は「牛に引かれて善光寺詣り」の300人が戸倉上山田温泉から善光寺まで歩くイベントに参加するから善光寺で獅子笛は恐らくできないけど、善光寺参りの予定の皆様は是非、上山田のお神楽獅子舞を見てね♪
Quite humbling.
Our Kamiyamada Kagura lion dance troupe was invited to perform at Ueda's Saikou-ji Temple. Afterwards, we stopped at Ikushima Tarushima Shrine for a blessing and to perform our lion dance at the Kagura Stage there.
Ikushima Tarushima Shrine is the most prestigious in all of eastern Nagano. With our Lion Dance, we are used to giving others a blessing so it was humbling to be on the receiving end, especially with this being such a grand shrine. And to be able to perform at their Kagura Stage -- really humbling.
The Kamiyamada Kagura lion dance troupe's next performance will be at the venerable Zenkoji Temple in Nagano City on May 6th at 3pm. I will be participating in the "Pulled by an Ox To Zenkoji" 30km, 300-people walk from Togura Kamiyamada Onsen so will likely be unable to play the flute this time around. But for everyone making a pilgrimage to Zenkoji on the 6th, check out our performance!
生島足る島神社 Ikushima Tarushima Shrine