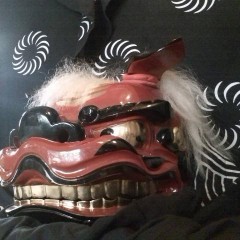 26日に上山田保育園の夏祭りが行われた。
毎年の事。
私ども上山田神楽保存会は子供達の為に獅子舞をやりました。
それこそ、毎年の事。
しかし、今年は思い出深いイベントでした。というのは3つの理由:
夏休みに入って今の保育園の建物が壊されて新しい建物を作るとなるそうです。まあ、現在の建物は固い鉄筋コンクリートで無くなれば泣く人は恐らく少ないかな?
私が娘の美咲ちゃんを連れて行った。本人は上山田小学校の一年生となったが、卒園生は夏祭りに誘われているので行きました。考えてみれば、これでうちの家族が上保を完全に卒業したとなる。
そして、獅子舞の時に私がいつものように横笛を吹いていたら何かの計算ミスで獅子の中に入る人数は足りなかった。急遽で私が中心の獅子の後ろに入る事となった。練習ではやった事があるけど、数百人の前で演奏するのは初めてだった。大丈夫だったかな?
まあ、これからもお神楽と共に町が変わっていくとともに家族が成長するとともに活動を続けてまいります!
Kamiyamada Preschool's annual Summer Festival was held on the 26th.
The Kamiyamada Kagura Lion Dance troupe I belong to performed for the children, as we do every year.
This year was memorable though for 3 reasons:
This is the last year for the current preschool building. It is scheduled to be demolished during summer vacation and rebuilt. I don't think many people will miss this utilitarian ferroconcrete monstrosity...
I took our daughter Misaki to the festival. As a 1st grader at Kamiyamada Elementary School she was invited back for the summer festival. This now means our entire family has 'graduated' the preschool.
For the lion dance, I started out playing the flute as I always do. But when it came time for the dance, one of the lions was one person short. So I had to fill in as the back part of the main lion. I've done so in practice before but never in front of a couple hundred people! I hope I did okay!
As our town and family change, I will continue to participate in our local events like this!