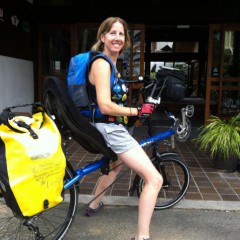 Couchsurfing Cook aka Wylie Goodmanさん。
半年のアジア旅は日本からスタート。日本は東京から新潟県上越市まで、何と自転車で!
碓氷峠から長野県に入って、千曲川沿いを走って、この戸倉上山田温泉に寄って、飯山市から国道292号で新潟に入って、上越市に下る。
日本トップ10サイクリングコースの一つだそうです。我が亀清旅館がその立派なコースに一致していて、嬉しいです。
Wylieさんは色んな旅人とお料理で交流するのが使命なの様で、そのさまざまの経験でブログを書いています。
これからの旅、頑張って下さい!
Wylie-san is taking a 6-month trip around Asia, with Japan being her first stop. And what a stop -- she's riding her bike across Honshu, from Tokyo through Nagano (including a stop here at our onsen town, Togura-Kamiyamada) to Joetsu City in neighboring Niigata Prefecture.
This Honshu Transverse is apparently one of the Top 10 Cycling Routes of Japan. And our little inn, Kamesei Ryokan, is right on the route!
Nicknamed the Couchsurfing Cook, Wylie-san's mission in life is to experience the many cuisines of the world through globetrotting travellers. See her blog for more.
Thank you for visiting Kamesei Ryokan, and we wish you the best for the rest of your travels.