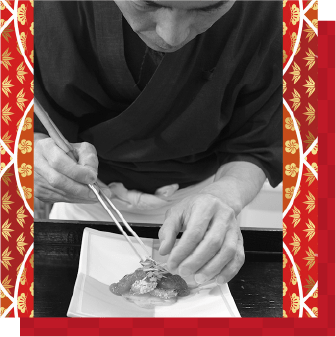 No stay at a ryokan would be complete without having the kaiseki-style dinner. Ours is prepared by our award-winning Chef, Susumu Takei. Each of the 11 dishes is carefully made by hand using seasonal ingredients and paying homage to Nagano's mountain cuisine.
Dining Facilities
Meals are usually served in our traditional farmhouse-style dining room, Hime-ike, which is fully equipped with tables and chairs. For groups, we have a large banquet room complete with a stage that can accommodate up to 50 people. Meals can be served to your guest room, too, for an extra charge.
Due to the preparation required, dinner sitting times are 6pm, 6:30pm or 7pm, and breakfast 7:30am, 8am or 8:30am.
Hime-ike dinner set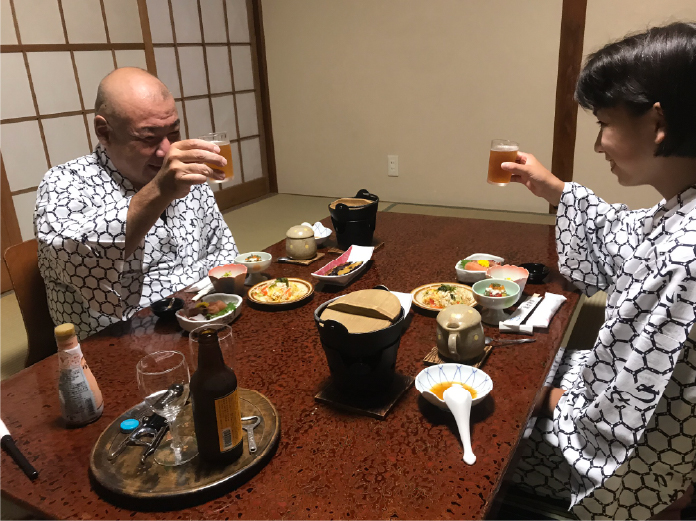 Room Service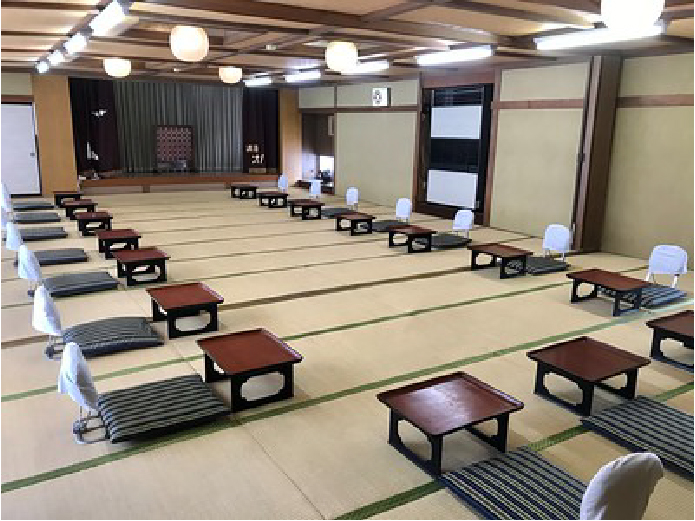 Ohiroma dinner set
Breakfast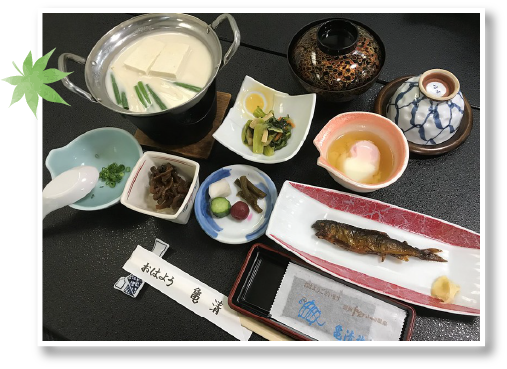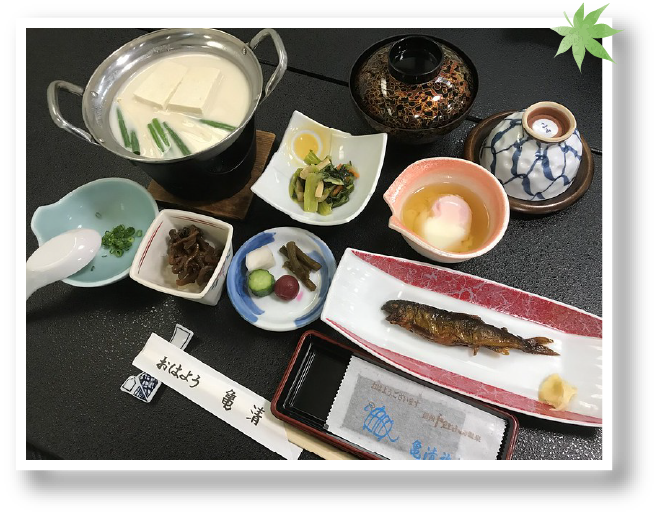 Kamesei's traditional ryokan breakfast is the perfect healthy way to start your day. The various dishes express Kamesei's heritage as an onsen inn located along the Chikuma River. For example, the fish is an 'ayu', the mainstay of many of Nagano's rivers, and it has been marinated by a nearby shop. The egg is a half-cooked egg called an 'onsen-tamago' as onsen water is often the right temperature to cook the white but not the yolk. The miso soup features our local miso maker's "Shinshu-Miso", Nagano's renowned miso paste. Along with the 'tsukemono' pickled vegetables and side dishes, our breakfast is sure to give you the energy needed to begin your day. (For those that prefer something more continental, you can inquire at check-in about toast and coffee instead.)
Optional Entertainment
Togura Kamiyamada Onsen boasts a rich geisha heritage. 30-minute interactive geisha shows featuring a 'tachikata' dancer and shamisen player can be arranged starting at 20,000 yen. Alternatively, we can arrange for a performance by the Kamiyamada Lion Dance troupe or the local Kamuriki Taiko drum group. Please contact us for details.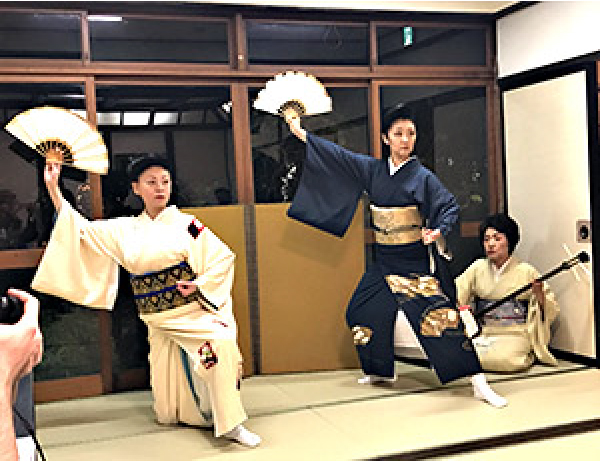 30-Minute Geisha Show
The geisha will perform a couple dances, teach the group for everyone to get in a circle and dance together, then play some geisha drinking games with the guests. An enjoyable introduction to the Geisha arts.

20,000-

6-6:30pm*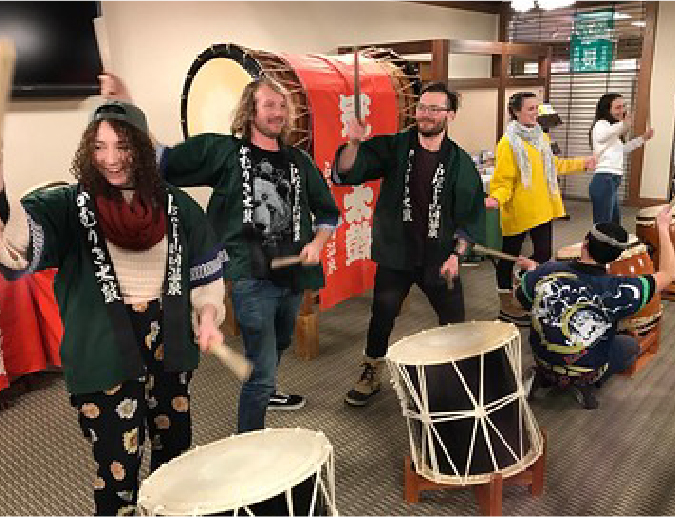 Taiko Drum Performance
Onsen Town Togura-Kamiyamada's local taiko drum troupe "Kamuriki-Daiko" performs their energy-filled ensemble of songs, and invites guests on to the stage to experience drumming, too.

20,000-

6:30-7pm*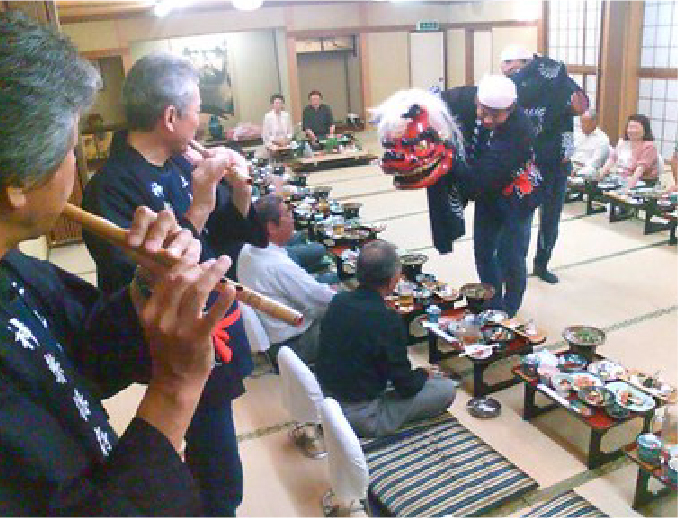 Lion Dance Performance
Kamiyamada's Kagura group has preserved the local lion dance down through the generations. The performance includes the shi-shi lion tapping each guest on their head to dispel evil spirits.

10,000-

6:30-7pm*
* Other times by prior appointment. Performances must be arranged in advance.