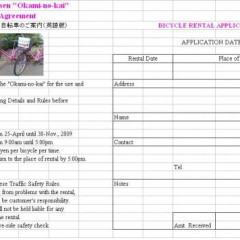 先日は亀清に泊まっていた外国のお客さんが観光協会から自転車を借りました。千曲川沿いで自転車に乗るのはそういうお客さんに人気があります。旅行中で電車やバスばかり乗っているのでたまに綺麗な空気を吸いながら、自然の中でエクササイズをするのは気持ち良い訳です。
ところで、外国人が自転車を借りる時の問題は申込書が日本語だけです。英語圏の方はかわいいそうです。その問題を直しておきました。私がその申込書を英語に訳しておきました。これで英語圏の旅行者も気楽で戸倉上山田温泉で自転車を借りれるようになりました。
ちなみに、翻訳した時に海外の似ているような申込書を参考にしました。そうすると、日本の方は簡単で良いと分かりました。欧米では泥坊が多いせいか、弁護士が多いせいか、欧米の自転車レンタル書が細かい!
The other day, a couple of our guests from overseas rented bicycles and went for a ride along the Chikuma River. It's a popular activity for travellers from abroad, probably because they're normally couped up in a train or bus for most of their trip and it's nice to get out in the great outdoors, breathe some fresh air, and get in some exercise for a change. Plus it's a great, leisurely way to see the countryside.
Anyways, one problem that tends to arise is that the rental agreement is only in Japanese. Well, I've fixed that problem. I translated the form into English. So now English-speaking tourists can easily rent bicycles here at Togura Kamiyamada Onsen.
One thing I realized while doing the translation was how simple the form is. I looked up some examples from bicycle rental places overseas. Maybe it's because there are more thieves there than in Japan, or perhaps just more lawyers, but their forms were so detailed and complicated!
Rental Cycle Info for Togura Kamiyamda Onsen: c/o Chikuma City Tourist Assoc. Tel (026)275-1326