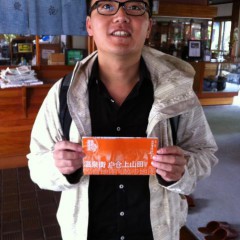 シンガポールからのHanさんは亀清旅館に一晩でお泊りになりました。新しく造った戸倉上山田温泉のグルメガイド・散歩の地図の中国語バージョンを喜んでくれました。このマップを使って、温泉街を回りました。
英語版は2年前に出来て、今度は他の旅館の中国人スタッフの翻訳と千曲市の補助金を使って、中国語(簡体字)版がやっとできました。シンガポールで中国本体と同じ簡体字を使っているようで、今回のHanさんとちょうど役に立ちました。
本人はもちろん喜んだけど、作成に当たって苦労した私も嬉しかった!
The new Chinese version of onsen town Togura-Kamiyamada's gourmet guide / walking map is getting put to use. Han-san, a tourist from Singapore, spent a night here at Kamesei Ryokan and used the map to explore the town.
Two years ago I put together the English version of the map. Now, with the help of a Chinese staffmember of another inn as well as grant money from Chikuma City, I got this Chinese version published. It is simplified Chinese, as used in the mainland. Singapore apparently also uses the same characters so Han-san put the map to good use.
Han-san was happy to have the map. I, too, was happy to see all my hard effort pay off.