(I was requested to write about running a business in Japan, and would like to share my reflections here.)
I run a traditional onsen ryokan along with some side businesses such as a rental cycle / guided cycling and walking tours program, an Uber Eats-like deal for local restaurants, and selling the Seattle-style cookies I bake for our guests over the internet.  Besides these business activities, I also run a non-profit organization for promoting tourism to Nagano, called the NINJA Project.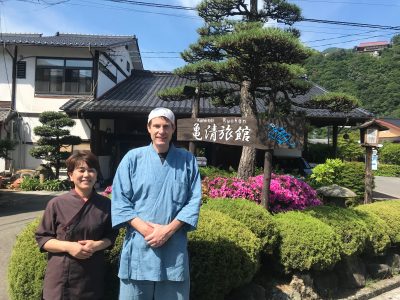 For the ryokan, the inn had been in my wife's family for several decades and the mother-in-law wanted to retire but didn't have anyone to take over so she talked about tearing it down and making a parking lot.  Most of the inns nearby have replaced their wooden buildings with multi-story ferro-concrete boxes.  Our inn still has the original wood building surrounding a central garden with passageways leading to semi-detached guestrooms.  If the inn had just been a concrete box, I wouldn't have been sad to see it go.  But I felt the wood buildings deserved to be around for at least another generation, so my wife and I sold our house and gave up our lives in Seattle to move back to Nagano and become innkeepers.
The eco tour side business is an attempt to take advantage of our town's rural setting and the cycling possibilities with the Chikuma River Bike Path and all the great hill climb courses around.
The restaurant delivery and cookie baking resulted from the Covid-induced downturn in our inn's business.
The biggest joy with running the inn has been being able to provide a place for guests to escape their hectic lives for a night and get back in touch with themselves.  We often get thank you messages saying that staying at the inn let them recharge their bodies' batteries.  I feel that providing that experience has become my calling.
The biggest challenge with the inn has been making the necessary improvements.  The mother-in-law didn't have energy to do much needed maintenance and updating.  Since we've come, I've built three outdoor baths with a 4th in the works now, and we've renovated several of the guest rooms to make staying in them more comfortable.  We'll never have all the modern comforts that the concrete boxes provide so another challenge has been to choose our guests better, i.e. attract guests that appreciate the classic ambience of an old-fashioned inn.
For anyone who wants to get into the business of running a ryokan, there are innkeepers throughout the country whose children aren't interested in taking over and are faced with having to close their family-run inn.  If you find one that fits your passion, start out at the bottom offering to work with cleaning or as a room servant and gradually work your way up.  Learning the art of 'omotenashi' (Japanese-style hospitality) can be a life-long endeavor.
Actually running the inn is about 50% of my work.  The other half surprisingly is all the work with the local ryokan association and the civic improvement work with the town and even the prefectural level.
Covid has fundamentally changed our operation.  Up until now, we'd been focused on trying to max out our room occupancy.  Now we're trying to provide a higher level of service to a fewer number of guests.  For example, after I get this latest outdoor bath finished, the next project will be to add a private outdoor bath to one of the guest rooms.