また亀清旅館の近くの登山スポットを紹介します: 上田市の隣の青木村の子檀嶺(こまゆみね)。青木村を代表できる里山は高さ1223mで、登山道は特に後半が結構な勾配でかなり良い汗をかけますが、頂上に着く突端に青木村と背景の上田市・塩田平の眺めは素晴らしい。登山道実態は様々の環境(竹林そして杉、松、最後は落葉の森)を通って、飽きない風景。うちは9月下旬で登ったので、彩りのキノコ季節でしたが、山がそんなに高くないから恐らく一年中登れる。地元の学生が1月1日の日ノ出を見に登るそうです。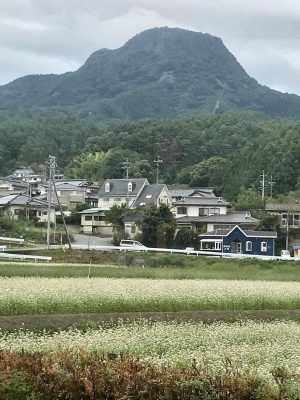 山のデーター
登山道は二つがある: 当郷と田沢温泉。田沢からのコースは少し短いが勾配がより激しいそうです。当郷登山口は亀清から20㎞、車で約35分。下の駐車所にトイレがあり。(馬頭観音のある上の駐車場は3~4台。)
登山道は当郷口から距離が2.86㎞、標高差が542m。登るのは休憩しながら100~120分がかかるそうで、私達は休まないで70分で頂上に辿り着いた。(下りは50分。)登ったのは台風前の晴れた日で、気温が25℃ぐらい。道はずっと木影で、太陽は気にしなかった。
登前のスタミナランチ: 道の駅「あおき」で当地の名物の馬肉うどん。近くの大法寺の三重塔(国宝)の時代で青木村が盛んでいて、馬の売買はその一部だったので、未だに馬肉が好まれている。
下りた後のアイス: 大法寺に隣接している青木村郷土美術館の喫茶店にて、青木産のジェラート。(ついでに、「見返りの塔」と言われている国宝と、時間と心の余裕があれば美術館の展示も是非に。
下りた後の立ち寄り湯: 田沢温泉コースなら当然、田沢温泉。私たちは何回か既に言っているので、今回は青木村のもう一つの温泉地、沓掛に。
台風の予報だったせいか、もう一人としか行き会わなかったという静かなハイクでした。困難な場所は特にないので、元気な小学生は踏ん張りしたら登れる。
Another in our series of local hiking spots:  Komayu-Mine Mtn. in nearby Aoki Village.  It's one of the village's most well-loved "sato-yama" (like a backyard mountain).    The trail gets pretty steep especially towards the end, but the panoramic view from the top is worth it.  The summit overlooks the village down below as well as Ueda City's Shioda Plain in the distance.  The trail itself traverses a wide variety of scenery, starting with a bamboo thicket, then a cedar forest, followed by some gnarly Japanese pines before the deciduous forest on the upper half.  It's a delight for the eyes and senses, especially if you go in late September or October as we did, when a plethora of colorful mushrooms will greet you.  As the peak is a relatively low 1223 meters, it is climbable pretty much year-round.  In fact, the local school children make an ascent every year on January 1st to see the New Years sunrise.
Trail Info:  There are 2 courses, one starts from the Togo district and the other from near Tazawa Onsen.  We climbed the Togo Trail which is 2.86km long and rises in altitude 542 meters.  With rest stops, it supposedly takes 100~120 minutes.  We powered through and climbed it in 70 minutes.  (The descent took us 50 minutes.)  We picked a late-September day just before a typhoon was to hit, so the temperature was a pleasant 25 deg C.  The Togo trailhead has 2 parking lots, the lower one with a public toilet, and the upper, smaller one with a horse memorial.  It is 20km from Kamesei, approx. 35 minutes by car.  By public transport, you can take the bus bound for Aoki from Ueda Station and get off at the Togo (当郷) stop, 25 min.
Pre-Climb Lunch Spot:  The Aoki Michi no Eki (Road Station) has a cafeteria that serves the local specialty, baniku (horse meat) udon.  It's a hearty stew with thick udon noodles and the area's trademark horse meat.   The nearby Daihouji Temple features a 3-story pagoda that is a designated national treasure.  Back in the 14th century when it was constructed, Aoki Village was a stop-over on trade routes and prospered with horse trading, hence the popularity of horse meat even today.
Post-Climb Ice Cream:  The art museum adjacent to Daihouji Temple has a cafe that offers made-in-Aoki gelato.   Make sure to check out the famous pagoda, and see if the stories about it being so mesmerizing that you keep looking back at it as you leave, are true.  And, if you have the time (and the heart), see what the museum has on display.
Post-Climb Onsen:  If climbing from the Tazawa side, then, of course, Tazawa Onsen.  Since we'd been to Tazawa numerous times, we decided to check out Aoki Village's other onsen district:  Kutsukake and it's public bath, Ogura no Yu.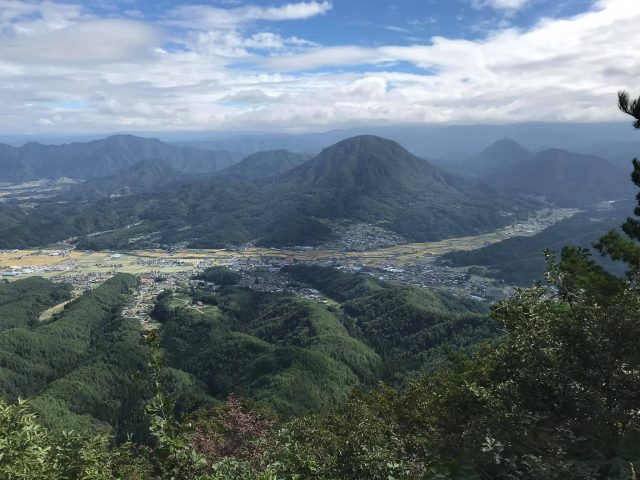 青木村を見下ろす Look down over Aoki Village
[mappress mapid="6"]