ゴールデンウィークでどこにも出かけれないけど、食事ぐらいはご褒美が…
そこに、亀清旅館はTボーンステーキを是非に!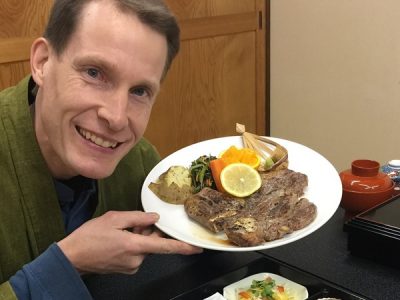 宿泊がコロナ休業中、Chef武井の創作弁当のテークアウトとデリバリーを始めてから約100個分を出しております。このGWで追加でTボーンステーキの提供も致します。御弁当をご注文なされる方には特別価格の6000円(税込み、二人前)でテークアウトでもデリバリーでも出来ます。
数に限りがございますので、ご注文はお電話(026-275-1032)でもメール(omotenashi@kamesei.jp)でも、どうぞ。創作弁当は一人前が1620円。
Can't leave the house during Golden Week, but at least want a special meal?
Try Kamesei Ryokan's T-Bone Steak!
During our Corona-closure, we have started offering our chef's cuisine in bento form for take-out or delivery, and have already served approximately 100 meals.  For Golden Week, we will also offer our popular T-Bone Steak.  For guests who also order a bento, the price will be 6000 yen including tax for a 2-person size steak.
The number of steaks is limited, so please order asap, either by phone (tel# 026-2751-032) or e-mail (omotenashi@kamesei.jp).  Price for bento is 1620 yen.