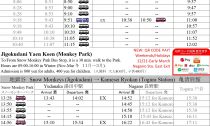 Kamesei Ryokan is a convenient 25 minute train + 45 minute express bus to the trailhead for the Jigokudani Wild Monkey Park.  The world-famous Snow Monkeys are an ever-popular day trip from our inn.  We updated the train and bus schedule for the 2019 / 2020 Winter Season.
For this season, Nagaden Bus has increased the express bus frequency.  Also new for this season is a QR Payment stand at the Nagano Station East Exit during weekends and holidays, which will make purchasing the 2-day Snow Monkey Pass a breeze.
This winter, come to Kamesei Ryokan to enjoy our relaxing inn and snowy gardens, indulge in our rejuvenating thermal onsen baths and feast on our chef's sumptuous kaiseki-style dinner, while making a side trip to see the blissful faces of the macaques as they soak in their onsen bath.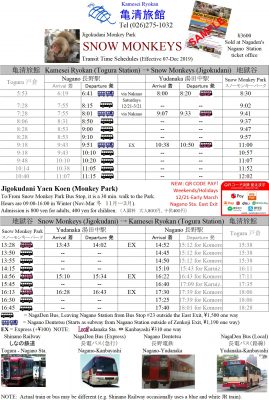 地獄谷野猿公苑の登口は亀清旅館から電車で25分と急行バスで45分。当館からのお出かけスポットとして相変わらず人気です。時刻表を2019・2020年の冬季で更新しました。長電バスの本数が増えて、今年からQRコード支払いが可能となりました。
この冬は亀清旅館や戸倉上山田の温泉らしいお湯そして我がChef武井の創作懐石料理を、その可愛いスノーモンキーと合わせて楽しましょう!