台風19号の影響@戸倉上山田温泉、14日。
幸いに千曲川の土手が守ってくれた。
大きな被害はなかった。
上田や長野市方面の国道も県道も普通に開通。
高速道路は上信越道が松井田妙義IC〜佐久IC間で通行止めです。その間は国道18号・碓氷峠もしくは遠回りで中央道・長野道です。(新潟方面からの上信越道そして長野道は開通になりました。)
北陸新幹線は長野・東京間に開通。
しなの鉄道は長野〜上田間が15日から再開。
松本方面は名古屋からの特急しなのが松本止まりで、松本〜長野間は高速バスです。その途中の姨捨SAのバス停から送迎が出来ます。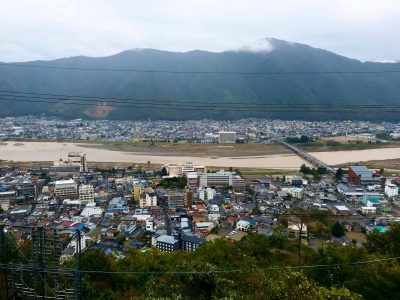 Typhoon Hagibis update, 14-Oct. for Onsen Town Togura Kamiyamada.
As you can see from the picture, the Chikuma River levees held so no major flooding here. At Kamesei Ryokan, we are business as usual.
Access is slowly improving.
By car, the Nagano Expressway from Matsumoto and the Joshin'etsu Expressway from the Niigata side are back to normal. However, the Joshin'etsu Expressway from the Tokyo side is closed from Matsuida-Myogi IC to Saku IC, so the alternative is to take Route 18 over Usui Pass or go around via the Chuo and Nagano Expressways.
Local roads between Nagano/ Ueda to our town including Route 18 and the Route 77 are normal.
By train, the Hokuriku Shinkansen has restored service between Tokyo and Nagano, and the Shinano Railway will return to service between Nagano and Ueda starting 15-October. Service on the JR Shinonoi Line between Nagano and Matsumoto is stopped so from Matsumoto we suggest the highway bus and we can pick up at the Obasute SA stop.
Thank you for your patience and we hope everyone can come and enjoy our inn.