戸隠高原~
パワースポット(奥社の杉並木)、
美味しいそば (長野県の代表の産地)
そして、
忍者!(戸隠れ流のちびっこ忍者村と忍法センター)
亀清旅館・戸倉上山田温泉から日帰りの人気スポット!
お車の方は善光寺経由で普通の道で約90分ですが、お急ぎの方もしくは混んでいる時期でしたら、逆に上信越道で信濃町IC経由なら亀清旅館から奥社の駐車場までは60分で行けます。(遠回りだし、高速代がかかるけど、30分も早い!)
電車の方は戸倉駅からしなの鉄道で長野駅まで25分、それからAlpicoのバスで60分。便利な時刻表: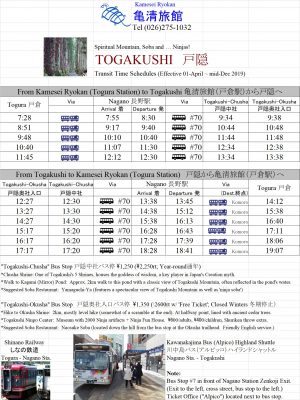 Togakushi is one of the most popular day trips from Kamesei Ryokan and our onsen town Togura-Kamiyamada.
It's famous for it's mystical spirituality (the ancient cedar trees lining the path to the Inner Shrine are breathtakingly-majestic!), soba noodles (Togakushi is one of Nagano's main buckwheat growing areas) and … ninjas!  There's both the Chibikko Ninja Village (more for kids) by Chusha, the Middle Shrine, and the Ninpo Center by the entrance to Okusha, the Inner Shrine.
Access to Togakushi from Kamesei by car is via Nagano City's Zenkoji Temple (approx. 90 minutes).  If you're in a hurry or going during peak season, we suggest taking the Joshin'etsu Expressway to Shinanomachi IC and approach from the back side.  It's a longer route and expressway tolls apply, but it is 30 minutes faster.
For going by train, use the simple schedule above.  Basically it is 25 minutes by train from Togura to Nagano Station, and then the Alpico bus which takes approx. 60 minutes.
ちびっこ忍者村 Chibikko Ninja Village ←注:忍者屋敷は7月中旬まで工事中 Note:  The Ninja Fun House is under renovation until mid-July
山口屋 Yamaguchi-Ya ←お勧めのおそば屋さん Recommended Soba Shop