(しばらくブログ更新してなくて、すみません。)
久しぶりです。青い目のおもてなし・亀清旅館のタイラーです。
ビッグニュースがあります: 戸倉上山田温泉発の姨捨夜景ツアーこの青い目のガイドで参加したい皆さん、今週末(H30年3月10日・土曜日)がツアー料金の値上げ前のラストチャンスです。現在はツアー参加費が2000円/人ですが、H30年4月からは千曲市観光局がその料金を値上げする予定です。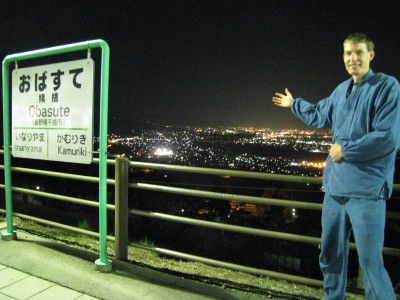 この姨捨夜景ツアーは戸倉上山田温泉を夜8時ごろバスで出発して、姨捨駅のホームから善光寺平の夜景を見下ろして、さらに上の長野道姨捨SAから違った角度からまた夜景をまた見て、帰りは味噌蔵「高村商店」に寄って、また温泉に戻るというコースです。途中で駅の記念入場券や、SAの売店から絵葉書、高村商店からお味噌をお土産でもらえます。私たち地元の者がボランティアでガイドしてまして、10日が私の当番の火です。10名揃えば、バス運行になりまして、私が戸倉上山田や姨捨の周辺の伝説の話(60%ウソ!)や魅力を説明したりします。
亀清旅館は3月10日でまだ空きがございますので、是非にお泊りになって、夜はご一緒に姨捨夜景ツアーに参加して頂きたいと思っております。
(Apologies for the lack of updates recently.)
He's back!  This is Tyler, American-born owner of the traditional onsen inn, Kamesei Ryokan.
I have big news:  This Saturday, 10-March, 2018 will be the last time you can take the Obasute Night View Tour with me as the guide before the price goes up.  Currently, the tour costs 2000 yen per person but the Chikuma City Tourism Bureau is set to raise the price in April.
The Obasute Night View Tour departs our onsen town Togura-Kamiyamada around 8pm, stops at Obasute Station to look down upon the picturesque lights of the Zenkoji Plain, continues up to the Obasute SA for another angle of the view, and stops at our local miso factory Takamura Shoten on the way back to the Onsen.  Along the way, participants are given a commemorative entrance ticket to Obasute Station, a post card from the SA gift shop, and a sample of Takamura's miso.  Plus, you get one of us local volunteers to tell some of the area legends and explain about the places to see around Togura-Kamiyamada and Obasute.  If 10+ people sign up for the tour, it will be done by bus and I am scheduled to be the guide this Saturday, so the explanation can be in English.
We still have rooms available at Kamesei Ryokan for 10-March, so I invite you to come and spend the weekend, and join us for the Obasute Night View Tour.